32BJ, ACLU denounce use of tear gas against migrants
Stephon Johnson | 12/6/2018, 4:26 p.m. | Updated on 12/6/2018, 4:26 p.m.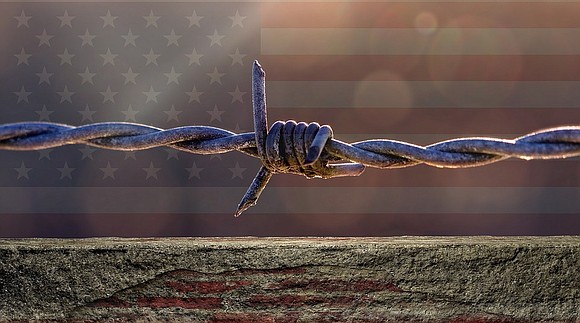 A local labor union, 32BJ SEIU, and the American Civil Liberties Union have criticized U.S. Customs and Border Protection over tear gassing migrants at the U.S./Mexico border.
Sunday, more than a thousand immigrants allegedly tried to force their way through the border after Mexican federal police failed to contain them. According to reports, members of the migrants threw rocks at border agents who responded with tear gas forcing the crowd to disperse. Mexican authorities asked the U.S. to investigate their use of tear gas.
Héctor Figueroa, president of 32BJ SEIU, lambasted customs agents for their actions.
"As families across the country came together to celebrate Thanksgiving last weekend, U.S. Customs and Border Protection closed the San Ysidro port of entry on the Mexico border, where more than 5,000 migrants have been waiting to apply for asylum in the United States," said Figueroa in a statement. "As our country celebrated a day of peace for some of our first recognized immigrants, U.S. Customs launched tear gas into crowds of women and children who were looking for safety and opportunity in our country."
U.S. customs agents said that they arrested 42 people. According to reports, Tijuana's government opened shelters to help members of the so-called caravan from Central America seeking asylum in the U.S. Homeland Security Secretary Kirstjen Nielsen said that male migrants were using women and children as human shields during the firing of tear gas into the crowd. Regardless of the circumstances surrounding its use, ACLU Deputy Political Director Lorella Praeli said it was unacceptable.
"Under no circumstances should CBP be using tear gas on children," stated Praeli. "This show of violence is outrageous and inhumane. The migrants at our southern border are human beings, including mothers and small children, who are exercising their legal, human right to seek asylum."
When asked by reporters whether or not he was still OK with his family separation policy at the border, President Donald Trump falsely pointed to his predecessor Barack Obama for having a similar program. In reality Trump rolled back an Obama policy of prioritizing the deportation of felons, gang members and national security risks via an executive order and eventually introduced a no tolerance policy toward all caught crossing the U.S./Mexico border.
"CBP was prepared for multiple demonstrations, marches and border pushes that we saw yesterday," said U.S. Customs and Border Protection Commissioner Kevin McAleenan during a phone call with media members this week. "As we've articulated for several weeks, we have been concerned about the size of the caravan, its primarily single-adult composition and the aggressive and assaultive behavior at both the Honduras-Guatemala border and the Guatemala-Mexico border. U.S. government officials have noted the presence of criminals in the group, and the government of Mexico has arrested over 1,000 caravan members for criminal violations in Mexico."
To Figueroa and Praeli, the reasoning by CBP is unacceptable.
"This egregious attack on human rights is not who are as a country," said Figueroa. "Militarizing and closing the border makes border communities less safe and re-perpetuates the violence that so many are fleeing from. We are better than this, or we should be. We call on our elected officials to uphold the Constitution, respect asylum law and represent the America we know we can be."
"Trump's obsessive, racist crusade against immigrants will continue to inflict human pain and suffering until Congress is willing to step up and conduct real oversight," added Praeli. "By Dec. 7, members must decide whether they will increase CBP's budget through wall funding and more agents. Those who would give this agency a raise should recall the families ripped apart at the border, and now toddlers choking on tear gas, in their decision."