Ailey celebrates milestone 60th anniversary season
Zita Allen | 12/6/2018, 4:01 p.m.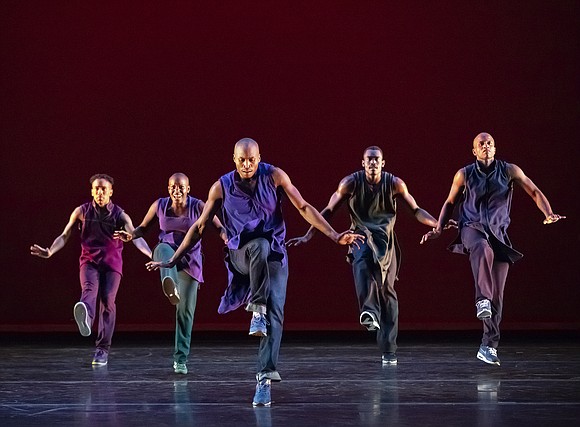 This season, the internationally famous, critically acclaimed and universally embraced Alvin Ailey American Dance Theater marks a milestone, led by Artistic Director Robert Battle and with the celebration of Ailey Ascending 60th Anniversary at City Center Theater, Nov. 28 to Dec. 30, 2018. To mark the occasion, the company's 32 extraordinary dancers treat audiences to works by some of today's most amazing choreographers, including world premieres by Rennie Harris and Ronald K. Brown, a company premiere by Wayne McGregor, a new production by Battle, the return of a recent premiere by Jessica Lang and special performances of rarely seen works by Alvin Ailey. It is a truly historic occasion.
Let's face it, back in the 1950s and '60s when the Civil Rights and Black Power movements were exploding onto America's streets and spilling over into the world of dance, sweeping it into the front lines of the most dramatic social, political and cultural revolution since the Civil War, who could have imagined that any company, especially one founded by an African-American choreographer, no matter how brilliant, would last 60 years. All honor is due.
Paying homage to Alvin Ailey's undeniably transformative genius, Artistic Director Emerita Judith Jamison recently joined Battle and Rennie Harris for a conversation with Susan Fales-Hill at the Guggenheim Museum to help launch this historic season.
"Mr. Ailey was incredibly brilliant about everything, especially choreography, and forming a company that allowed us to celebrate our African-American experience and show our humanity and truth," Jamison said. "And, part of his truth is that all are welcome."
She added that Ailey knew that it was so important to reach out to everyone to transition this company to a higher plane. "The whole idea is to keep growing, keep progressing and to keep giving and to be excellent at it," she said.
That excellence shines throughout the current five-week City Center season, which includes such highlights as the premiere of iconoclastic choreographer Harris' "Lazarus," the company's first ever two-act ballet. In the tradition of Ailey, who addressed our nation's racial inequities with a movement vocabulary that spoke a universal language, Harris' "Lazarus" is an inspiring ensemble work set to a musical montage that includes Nina Simone, Michael Kiwanuka and the voice of Ailey. It is a world premiere that clearly demonstrated why he has been chosen as the company's first artist-in-residence, leading a wide range of activities across the organization, including The Ailey School, Ailey II, Arts-in-Education, Ailey Extension and the New Directions Choreography Lab.
Ronald K. Brown's "The Call" is another world premiere that continues the Ailey legacy of showcasing brilliant choreographers with a milestone of its own—his seventh work for Ailey. Brown describes it as "a love letter to Mr. Ailey." It features his signature blend of West African and modern dance that unspools seamlessly, speaking to both our hearts and our soul with a musical mix that includes Johann Sebastian Bach (performed by Chris Thile, Edgar Meyere and Yo-Yo Ma), Mary Lou Williams and Asase Yaa African-American Dance Theater.
Other highlights include Wayne McGregor's "Kairos," featuring his mesmerizing blend of angular, yet sinuous movement, and the return of talented and prolific Jessica Lang's luminous "EN," her Ailey choreographic debut,  a celebratory ensemble work set to original music by composer Jakub Ciupinski.