Aretha Franklin's 'Amazing Grace'—a marvel!
LAPACAZO SANDOVAL | 12/6/2018, 3:55 p.m.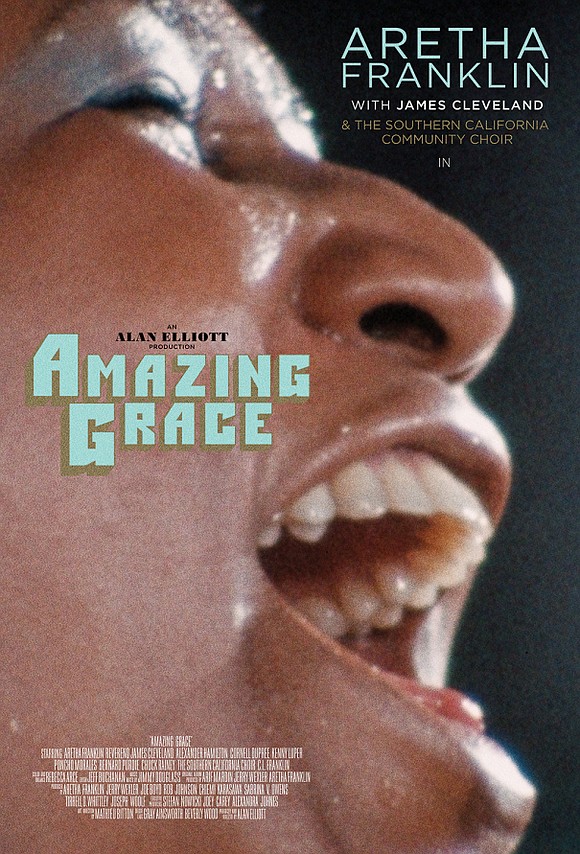 "Amazing Grace" will give you chills. The right kind. The kind of chills that circle your soul to comfort and to inspire. Shot in 1972 over a 48-hour period in Los Angeles inside Watts' New Temple Missionary Baptist Church, this amazing documentary captured the live recording of the most successful gospel album in history, Aretha Franklin's "Amazing Grace."
What is given by God no human being can take. The late Aretha was a marvel. At the pinnacle of her power, with 11 No. 1 singles and five Grammys to her credit, she returned to her roots in the church, a place that fueled her creative spirit. What came next was one of her biggest selling albums, earning a Grammy and a place in musical history, Amen.
Aretha Franklin's "Amazing Grace" is many things and it just might be an Academy Award winner if it catches a nomination, but for some, I suspect, it's an intimate love letter to the African-American church.
As a child of the church, I spent years inside the church, sitting on the hard pews and singing in the choir. The music can move a sinner to repent and make a believer almost levitate off the ground Amen. In watching this peek into history, it gives that same burst of energy because you hear the one and the only Aretha Franklin as your lead soloist. Where your soul and imagination goes after that is your own personal experience, which is much like church. The album (Atlantic Records), which you can listen to online via YouTube now, has images to bring the experience to a higher level.
The Re's master of ceremonies and gospel legend, the Rev. James Cleveland, adds the right touch. In term of just words, the shy diva says very little Why should she, really?—Her voice is still speaking, shouting, moving and will until time ends.
The year 1972 is alive again as the camera catches her in rehearsal asking what key she should be singing in, and when she can't get a straight answer, she tosses Cleveland the side-eye.
Cleveland is a showman playing to the camera and his devoted crowd while never losing control.
Unless you are made of stone, I dare you (I do) to listen to the song "Amazing Grace" and not go there. When Aretha sings that hymn the reverend is overwhelmed with emotion, hit so hard that he gets up from the piano and openly weeps on camera. Amen. He's listening to Aretha in the house of her God and his. And she just doesn't just sing. No, she s. i. n. g. s.—and the camera does not miss a single bead of sweat pouring down her face.
Providing the vocal power is the Southern California Community Choir singers. The singers give their all with the call and response backup on songs such as "The Old Landmark" and "How I Got Over."
In the audience are a few known faces such as Mick Jagger and gospel legend Clara Ward, who was a primary influence on Aretha Franklin
The Rev. C.L. Franklin, Aretha's father, gives a brief sermon and in a moving moment, he wipes the sweat from his daughter's face while she sings.
The apple did not fall from the tree and Franklin steps into "Amazing Grace" with as much power as his daughter, delivering that almost immortal old-time Baptist minister style that today's preachers simply cannot replicate.
In this documentary is the first song she ever recorded, "Never Grow Old" and the assembled (no surprise) caught the Holy Ghost.

This documentary was filmed in 1972 by the great Sydney Pollack and his crew. There is a legacy as to why it took so long to get this documentary made. It literally sat inside a vault for 35 years before the producer, Alan Elliott, took up the challenge.
This film is a powerful documentary. It's a must-see. "Amazing Grace" is moving and very cathartic.