A bounty of options in Bristol, Rhode Island
SHERYL NANCE-NASH | 12/6/2018, 2:02 p.m.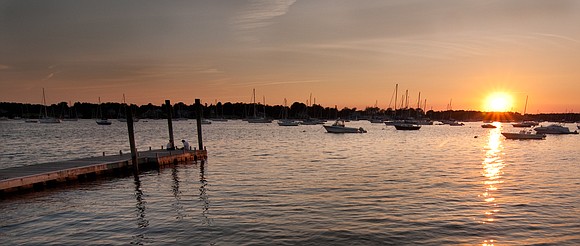 When people talk about Rhode Island, the conversation is usually about Newport or Providence, but there's a special slice of small-town Americana in Bristol.
The architecture is stunning, for example the antebellum Georgian mansion that is Linden Place and the First Congregational Church built in the mid-Victorian, Gothic Revival style. The streets are lined with architectural marvels. Take a 1.3-mile walking tour of downtown. Do have your cameras ready.
The history is rich in Bristol. Linden Place is where the DeWolfs, Barrymores and Colts held court for presidents and glitterati. The DeWolf Warehouse/Tavern, a two-story structure, was built as a warehouse by DeWolf family members who were active in the Triangle Trade between the U.S., West Indies and Africa. Blithewold Mansion, Gardens & Arboretum not only has the backdrop of Narragansett Bay, unique plants and greenery, but also the mansion's 45 rooms are full of memories of the Van Wickle family, with their artwork, antiques, clothes, photos and more. You'll be captivated. Another must-see is Mount Hope Farm. It's called the Grand Lady of Bristol for a good reason. It's special. The farm is home to the 1745 Governor Bradford House, as well as being a working bed-and-breakfast with 11 period-style guest rooms, a year-round farmers market and more than 125 acres of preserved space for walking and hiking trails.
History is plentiful and so is outdoor recreation. The beach at Colt State Park is beautiful, and the bonus here is the beach volleyball courts, massive grassy areas with picnic tables, bike paths, trails and a sports complex that includes a skate park; basketball, tennis and bocce courts; baseball and softball fields; concession stand; and more. Colt State Park is more than 460 acres of fun. Boaters will happily make their way to the Herreshoff Marine Museum, with its America's Cup Hall of Fame, the collection of more than 60 yachts designed and built by the Herreshoff Manufacturing Company between 1878 and 1945.
Perhaps one of the biggest surprises is the cuisine in this small town. The vibe at the Bee Hive is chill. Go for the black bean burger with Vermont cheddar, pico de Gallo, avocado and arugula on a potato bun. Another good option is the lentil salad, Moroccan spices, carrot, onion, roasted red pepper, cherry tomato, Narragansett creamery feta, mint, basil, baby spinach, red wine vinegar and olive oil. You can't go wrong with the smoked salmon BLT, house-cured smoked salmon, smoked bacon, red onion, arugula and boursin on toasted flaxseed bread.
For a seafood feast, there's the Lobster Pot. Sit outside or inside this popular spot. With favorites such as clams casino, lump crab cakes, fried calamari, slow cooked pork bellies and a bowl of goodness, also known as lobster bisque, you might just call it a day, but don't. You must have the lobster, scallops or the baked stuff jumbo shrimp.
The DeWolf Tavern, which is in a historic 1818 warehouse, is romantic and cozy. Mondays, oysters are $1 all day in the bar, and Wednesday evenings, from 6:30 p.m. to 9:30 p.m., you can hear live music in the tavern. For lunch, Le Central and Leo's Ristorante won't disappoint. Go back to a bygone era for breakfast, be it the Hope Diner, where you'll hear locals waxing poetic on politics and fun nonsense, or the Sunset Café, where waitresses aren't afraid to wear corny costumes on Halloween.