December 2018 Dance Calendar
CHARMAINE PATRICIA WARREN | 12/6/2018, 4:09 p.m.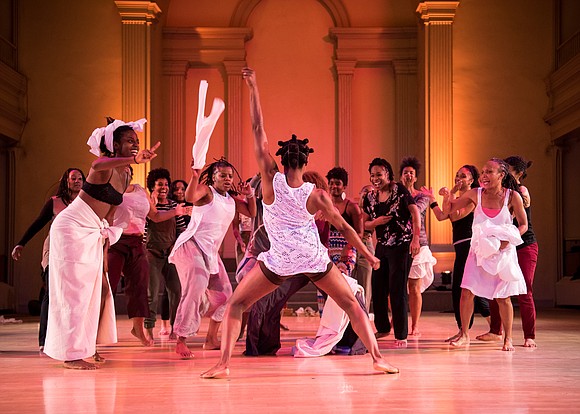 December is packed with rewarding performances, beginning with the series of workshops and the one-night-only performance by the award-winning womyn of the Skeleton Architecture collective at Danspace Project, Dec. 6 to Dec. 8. Made up of "…gender non-conforming artists rooted in the rigor and power of the collective in practice. They commit to engaging embodied research to support the African Diasporic experiences," according to the release. Members are Maria Bauman, Davalois Fearon, Marjani Forté-Saunders, Melanie Greene, Kayla Hamilton, Jasmine Hearn, Marguerite Hemmings, Nia Love, Paloma McGregor, Sydnie L. Mosley, Grace Osborne, Leslie Parker, Angie Pittman, Samantha Speis, Charmaine Warren, Edisa Weeks, Marýa Wethers and Tara Aisha Willis. The 2017 Bessie/NY Dance & Performance Awards recipients for Outstanding Performance, Skeleton Architecture originated through an evening entitled, "the skeleton architecture, or the future of our worlds," curated by Eva Yaa Asantewaa during Danspace Project's "Platform 2016: Lost & Found," which examined the impact of AIDS on generations of artists. About that performance, in Culturebot, dance writer Maura Donohue wrote, "... magic, power, grace, sorrow, strength, joy, sisterhood and unfettered, unapologetic presence(s) ... exploded forth from St. Mark's Church once [the collective] got dancing," about the original evening sparked by Audre Lorde's essay, "Poetry Is Not a Luxury." For more information, visit www.danspaceproject.org.
STILL RUNNING
Nov. 28-Dec. 30—The Alvin Ailey American Dance Theater returns for their annual New York City Center's five-week season. Included on the programs are world premieres "Lazarus" by Rennie Harris, "The Call" by Ronald K. Brown, "En" by Jessica Lang and "Kairos" by Wayne McGregor (company premiere), plus new productions by Artistic Director Robert Battle ("Juba," 2003), Jawole Willa