Former President George H.W. Bush dead at 94
Herb Boyd | 12/6/2018, 3:56 p.m. | Updated on 12/6/2018, 3:56 p.m.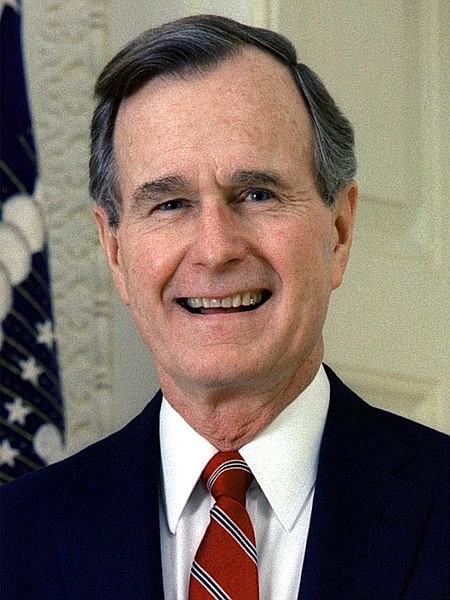 Competitor and conciliator are two words that have abound in describing former President George Herbert Walker Bush, who died last Friday in Houston at 94. But those words do not fully capture what he meant to African-Americans, and for that we can say Willie Horton, Clarence Thomas, William Bennett and Keith Jackson.
Rather than the typical mixed verdict of his administration, for Black Americans Bush was no friend, and this point was made clear long before the infamous Willie Horton ad that propelled him to the presidency in 1988.
In 1964, while a candidate for the Senate in Texas, he was unequivocal in his stance against the Civil Rights Act. He expressed his derision by stating that the bill protected 14 percent of the people, emphasizing, "I'm also worried about the other 86 percent."
Although he later regretted this decision, which stood in stark contradiction to his father's positions on civil rights as a senator from Connecticut from 1952 to 1963, Bush never refuted the Horton ad that was created by his campaign team, most notably Lee Atwater.
The right thing to do and the political thing to do might have momentarily troubled him during his long career. When it came to Black Americans, his decisions were never favorable.
Wednesday, a day of mourning was set aside for him with all the former presidents and dignitaries at his funeral services, but there were many days in which Black citizens in this country mourned under his leadership.
None of his political decisions, whether
expedient or not, were more hurtful and did more harm than the Horton ad, which was centered on a Black man convicted of murder who while on furlough from a Massachusetts prison raped a woman. Bush and his campaign used the incident to impugn his opponent, Michael Dukakis, blaming him for Horton's furlough and questioning the candidate's Greek ancestry.
"Horton was released," Bush said during his bid for the Oval Office, "…and fled, only to terrorize a family and repeatedly rape a woman."
The Rev. Jesse Jackson, who was a Democratic contender during the 1988 president race, said upon learning of Bush's passing, "He was a true patriot, a good man, who served at several levels of our government always with distinction and dignity." He praised Bush for his military commitment and recalled his comment about "a thousand points of light, representing a thousand ways people could serve and share."
In 1988, in the heat of the presidential race, Jackson was less conciliatory, and in a speech in Inkster, Mich., assailed Bush, saying, "When he is silent and won't stand up for civil rights, supports Mr. Reagan's veto of the Civil Rights Restoration Act, that's un-American and wrong. That's a leadership gap." Those were Jackson's feelings a generation ago.
Yes, Bush might have been a patriot, a good father and treated most folks decently, but this attitude was not one he expressed universally. Even with his appointment of Clarence Thomas to the Supreme Court, Black Americans recognized the duplicity, positioning a man to replace Thurgood Marshall who was in many respects the direct opposite on civil rights and human decency.