GRAMMY winner Chief Ayanda Clarke talks upcoming festival
NADINE MATTHEWS | 12/6/2018, 3:45 p.m.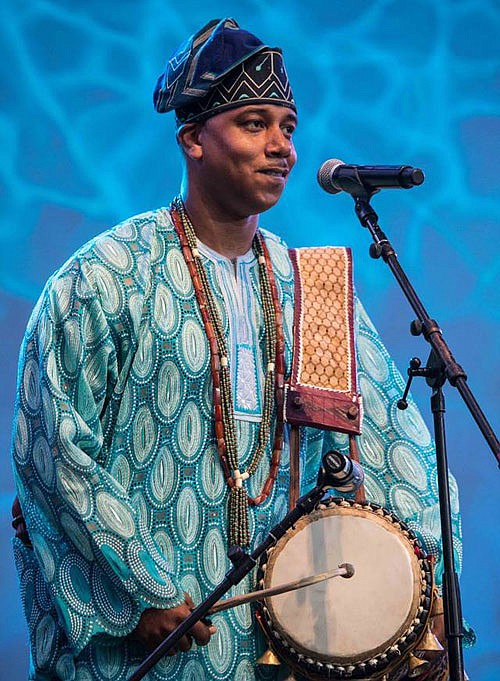 Not content to merely perform and teach, GRAMMY-winning musician, teacher and lecturer Chief Ayanda Clarke formed a business organization called The Fadara Group a number of years ago with the mission of "intertwining music, culture, and spirituality."
"It is based on my upbringing as a musician and as a traditionalist," he said. "My parents hailed from the Black Nationalist cultural movement, so I was born in a household that respected and understood the connection of Africans in the Diaspora to a continental African experience."
The business organization serves the holistic needs of its constituents. Its main offerings are True to Our Native Land, a cultural appreciation program, and Integrated Wealth Alliance, a network of esteemed healers and practitioners from various disciplines.
The premiere of the highly anticipated, family friendly True to Our Native Land event is coming up Dec. 14 and Dec.15 at The Brooklyn Bank event space. Three distinct panels will be held over the two days.
Clarke explained, "Friday, Dec. 14, will focus on spoken word in contemporary African diasporic culture and tie into the traditional aspects of oral literature and the role of the orator in traditional African societies." That panel will feature hip-hop artists and hip-hop researchers, playwrights and Nigerian linguistic scholar Doba Afolabi.
The second day has two segments. "Early on Saturday, we'll focus on music and in the evening we will take the same template and apply it to dance," said Clarke.
Other scheduled performers include actor Adesola Osakalumi ("Fela!," Antoine Fuqua's "Ice"), Emmy-nominated choreographer Jeffrey L. Page (of Beyoncé fame), internationally acclaimed hip-hop cultural ambassador Toni Blackman, award-winning playwright Nsangou Njikam ("Syncing Ink"), Chief Baba Neil Clarke (former percussionist for Harry Belafonte and Randy Weston) and Clarke himself.
Clarke has been performing professionally since he was 5. He began playing musical instruments at an extremely early age and performed at the Brooklyn Academy of Music at age 5. He has performed or shared the stage with some of the world's most revered percussionists and most loved artists, including the late Randy Weston, George Clinton, Erykah Badu, M'bemba Bangoura and Somi. Clarke carries an enviable academic pedigree. He is a graduate of the esteemed prep school The Dalton School and obtained both undergraduate and graduate degrees at Wesleyan University.
Clarke's research of the percussive arts (including a variety of drums and bells, the balafon and the shekere) is exhaustive. His range spans varied musical traditions, including those of Guinea, Mali, Senegal, Ghana, Nigeria, Angola, Brazil, Cuba and Caribbean nations and African Americans. After more than 30 years of deep study, immersion and training, he's emerged as one of the most highly regarded percussionists of his generation, unique in his ability to cross every musical genre.
When asked his opinion on the recent assertions by some Africans who claim that diasporic African-descended peoples are engaging in cultural appropriation when they perform traditional African music or dance or don African garb, he replied, "Those who are the custodians of culture in the United States and Africa recognize the connection and see the brotherhood and sisterhood of those in the diaspora. My [African] teachers have always been very welcoming of my desire to learn and to study and to reconnect."