Harlem-based artist Charzette Torrance to show during Miami Art Week
NADINE MATTHEWS | 12/6/2018, 3:51 p.m.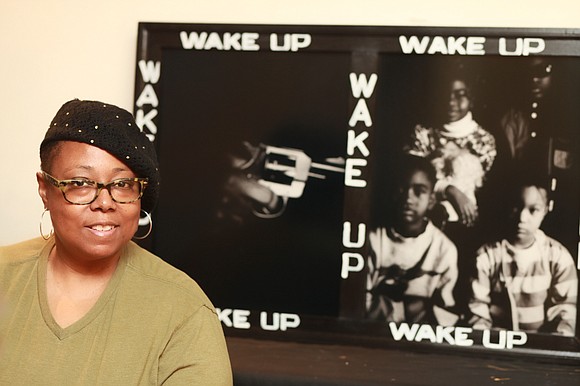 When Detroit native Charzette Torrance first moved to New York City, she settled in the Upper East Side, a wealthy Manhattan enclave where it would surprise no one if we found out snobbery is on the curriculum at its many posh private schools. Torrance had resided there for a couple of years before the rude refrain, "Are you a nanny?" finally had its intended effect—driving her from the area.
"I knew I had to get out!" she declared with a laugh. The commercial photographer and artist moved to Harlem in 2003 and has never looked back.
"I came to Harlem in 2003 and loved it," she said. "The flavor, the food, the people."
Torrance's photo collection, "Prevalent," will be shown this week at Spectrum Miami during Miami Art Week, which runs in concurrence with the prestigious Miami Art Basel, a sprawling exhibit bringing together the best of modern and contemporary artists, collectors and gallerists. Torrance explained, "It's significant because all the curators and all the galleries around the world come and look at artists' work, so you get that exposure."
Torrance humbly acknowledges Spectrum's Sr. Business Development Director Rosana Rader and Exhibitor/Community Relations Manager Kelly Smith for choosing her to be one of their artists at the upcoming exhibition.
She said, "They saw my work as powerful and insightful in adding a new style of art that would make a change not only in the world of art, but spark conversation for a social change."
She also wanted to make sure she thanked Redwood Media Group and Eric Smith for choosing her as a New Rising Artist.
Torrance, who also runs a Harlem-based commercial photography business under the name Charlie T., has always insisted on using her art for social impact, commenting on issues such as birth control, gun violence and civil rights. The Schomburg Center houses her collection "Single Working Parent."
"All my work in the fine art area has been about telling stories to effect change and to help people," she said. "I want to start a conversation and from conversation come up with solutions and put things in action."
Torrance herself was influenced by a wholly different kind of artist, one who she had very much in her mind this past Aug. 15. She recalled, "My wife asked me, 'Why are you playing Aretha Franklin's songs all day?' I said 'I know she's transitioning.' It really saddened me."
The legendary singer, who died Aug. 16 of this year was an avatar of integrity and service to community for Torrance. Franklin, for whom she was an event photographer on many occasions, told her, "You have to be more than just an artist, you have to care about your community, you have to care about the world."
"Being an artist is just something that you do from passion," said Torrance. "But you have to care about your community. Through that you have a larger audience to effect change, but if you don't do anything for your community—for example, if I don't do anything for Harlem, if I don't do anything for the LGBT community, if I don't give back to Detroit, it makes no sense."