Harlem-based artist Charzette Torrance to show during Miami Art Week
NADINE MATTHEWS | 12/6/2018, 3:51 p.m.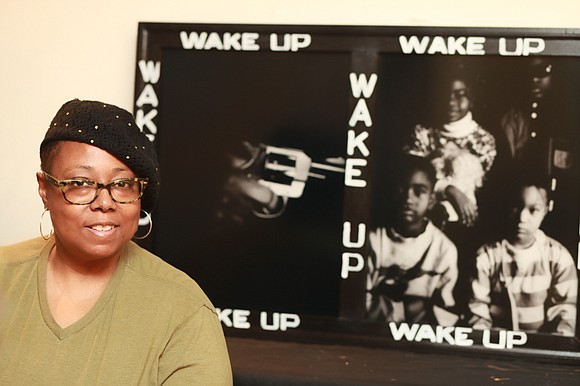 Torrance decided she had to create one of her signature "billboards" for Franklin during the days as she anticipated the legendary singer's transition. Much of Torrance's photography is captured in billboard-sized diptych images accompanied by minimal text. Most are bound by heavy black framing. For her tribute to the Detroit-born icon, begun as news of Franklin's imminent passing spread, she was moved to do something different.
"Every frame I did for her in black didn't work," she said. "The spirit told me gold and red. So I redesigned it."
Torrance created the image, unique from all her others, with a gold frame and red lettering. Incredibly, when Franklin's casket was revealed to the world, it was gold, and Franklin was outfitted in a red dress for her burial.
Another striking work of Torrance's that will be on display during Miami Art Week is "Wake Up," a disturbing image of four children on one side with a disembodied hand holding a gun at a 90-degree angle to their heads on the other. The children are positioned close together, evoking the iconic image of the densely populated hold of a slave ship. One wears a striped shirt recalling the school-to-prison pipeline.
Torrance's overwhelming concern about the disastrous impact of gun violence on Black children pushed her to create this particular piece. "'Wake Up' is for the world to wake up," she said. "That's why I made it. All these shootings were happening first in our community, and during that time no one really noticed. No one cared and I knew that it would escalate. Then when it started to happen in Parkland, it became a broader issue, but it has been an ongoing thing."
In terms of her aesthetic choices she explained, "I wanted these pieces to be right there, striking in your face so you get the message. People will look at stuff when it hits them in the face. I need to shake your soul to make an impact and create change."