$NP Designs to host their second annual Art Show, the Silver Jubilee
Olayemi Odesanya | 12/6/2018, 4:33 p.m. | Updated on 12/6/2018, 4:33 p.m.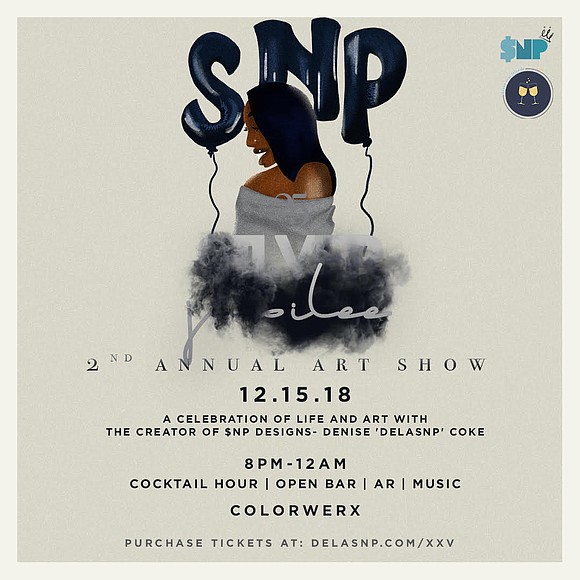 Next week, Dec. 13, 2018, from 8 p.m. to midnight, $NP Designs will host their second annual Art Show, the Silver Jubilee. It will take place at ColorWerx, 3460 48th St., Long Island City, N. Y.
"Last year, the Art Show was dedicated to the launching of my website, deLaSNP," said Denise Coke, founder of $NP Designs. "And I received such a positive feedback that I knew the next one that we host has to better then the last."
She continued, "This year we decided to go of a theme where it's interactive. Usually when people attend art shows, they are just walking around and admiring the work. But I wanted to do something out of the ordinary. I really wanted to focus on fusing art and technology."
Since the age of 2, Coke has shown a great interest for the arts, and she started designing professionally in 2011. $NP Designs is a visual design agency based in New York City. Their main focus is to "provide excellent service to their clients who range from small businesses, schools and  social causes."
Some of their clients have also been international. Not only is Coke an award-winning freelance graphic designer, but also she is a visual designer, developer, motion graphic designer and illustrator. Some of the awards she has won personally and with other agencies are GDUSA, Golden Needle, CT Art Directors Club, AVA Digital Award and Creativity 46 Media & Interactive Competition.
At her new show, there will also be food catering from Chef Dennis, an open bar, a small party and vendors including Marycle Lashes, CanniCrave, Payton, Ohema Essentials, DeLaJipi and Be.En. 
Tickets are $20 until the week of the event, and then will increase to $30 and more at the door. Attire is "nighttime chic." For more information on $NP Designs, go to delasnp.com/xxv.