Saint Peter's University thriving under new head coach
Lois Elfman | 12/6/2018, 2:42 p.m. | Updated on 12/6/2018, 2:42 p.m.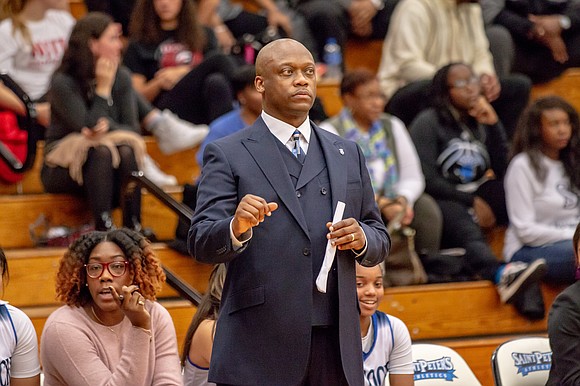 Game by game, the women's basketball team from Saint Peter's University is establishing its presence in the New York/New Jersey area. The Peahens have scored wins over NJIT, LIU and Wagner. Although there was a rough loss to Seton Hall University Sunday, it is clear that new head coach Marc Mitchell is promoting a competitive attitude that this program has previously lacked.
"It starts with the coaching staff…and our culture that we want to instill," said Mitchell, who spent nine years as the head coach at Fairleigh Dickinson University-Florham, making it a national force in Division III women's basketball. This position is his first Division I head coaching position, but his approach hasn't changed.
"In order win in Division III, you've got to get kids that are maybe a little bit better than Division III basketball," he said. "Here, I'm recruiting kids that are considered to be high Division I players."
Since Mitchell was announced in March as the team's head coach, he shared his vision with returning players. As soon as this year's freshmen arrived, they too learned that details matter. Important things are working hard for each other, no selfishness, check your ego at the door and play for your teammates more than for yourself.
"That's our philosophy and it's paying some dividends so far," said Mitchell. "Players say they want change and they want to win, and then when someone comes in who holds everyone accountable, you get some resistance. There was some reluctance early, but now as the season progresses everyone is really buying in."
Mitchell is a stickler for things such as talking on defense, encouraging each other on the defensive side of the ball, making hustle plays and stepping in and taking charges. "Little things matter and the young ladies are really stepping up to that challenge," explained Mitchell.
At FDU-Florham, Mitchell took a team with little success to a 33-0 record during the 2013-14 season, becoming the NCAA Division III Champions. Most of the players from that team were on hand for Saint Peter's season opener. They're excited to see another team go from humble beginnings to the history books.
"I'm definitely fueled by making a name for Saint Peter's, making it nationally known," said Mitchell. "We're going to have to keep making strides, and hopefully one day I'll be looking [Rutgers] coach [C. Vivian] Stringer eye-to-eye and saying, 'We've got a team that can compete.'"