'School Girls' is powerful, fun theater
Linda Armstrong | 12/6/2018, 2:57 p.m.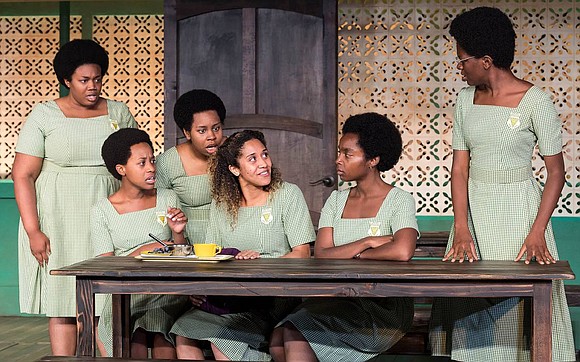 Ghanaian-American writer Jocelyn Bioh has created a powerful, funny, touching story in "School Girls: Or, The African Mean Girls Play," which is currently being presented by the MCC Theatre at the Lucille Lortel Theatre, located at 121 Christopher St. The show is back by popular demand, and I'm so glad because when it was showing some months ago I didn't have the opportunity to see it. When I heard it was coming back, I made sure to put it on my schedule and I'm so glad that I did!
Bioh gives us Aburi Girls Boarding School in Central Ghana. Paulina is the popular girl and a huge bully. She is cruel and verbally abusive to her fellow classmates Ama, Gifty, Nana and Mercy. She is also very overbearing and has her heart set on winning the Miss Ghana beauty pageant to represent Ghana in the Ms. Universe Pageant, that is until a new girl comes to the school named Ericka. Each of these girls has her own issues that are very captivating to learn about.
Paulina is vicious toward her "friends" and wants to win at all costs, even if it means harming herself. Paulina is a dark-skinned girl who is very self-hating with regards to her complexion and Ericka is light-skinned. All these girls are Black, but Ericka is a mulatto and is the more "acceptable" Black person.
This play takes a serious look at the issues that we have in the Black community with the envy and hatred that Blacks can have toward each other simply because of having different skin colors. We come in a variety of skin tones, and our tones and our hair texture should not define whether a person is considered to be more beautiful or more acceptable than another. But Bioh shows that even when as Blacks we try to "put our best person forward," it's still not good enough to come out a winner in a world where beauty is judged by white people and represented by white people.
This play is a definite wake-up call about self-hatred in the Black community and the racism that we as Black people face in a world where we simply don't measure up to the standard for "true" beauty.
I watched this production with my 16-year-old daughter and although we laughed a lot, there were also moments when she recognized the cruelty of Paulina's character but was also able to feel the pain and self-hatred Paulina faced in her own mind and heart.
There are phenomenal lessons to be learned from experiencing this profound, powerful and stunning drama. It will leave you realizing this world is just a very unfair place. Go and experience this play; you'll never forget it. It will move you! I was so stunned by the end I couldn't speak, all I could do was stand and applaud. Bravo to this playwright and to this talented ensemble of actors. In addition to the students, there is Headmistress Francis and Eloise Amponsah, a former winner of the Ms. Ghana pageant.
This remarkable cast gives superb performances and consists of Maameyaa Boafo as Paulina, Latoya Edwards as Ama, Paige Gilbert as Gifty, Joanna A. Jones as Ericka Boafo, Abena Mensah-Bonsu as Nana, Mirirai Sithole as Mercy, Myra Lucretia Taylor as Headmistress Francis and Zenzi Williams as Eloise Amponsah. Director Rebecca Taichman masterfully handles this very dramatic, explosive and riveting piece of theater. For tickets, visit www.mcctheater.org or call 1-800-833-7698; the show will play through Dec. 9, 2018.