SOUTH AFRICAN ANTI-APARTHEID VETERAN TAPPED FOR TOP POETRY PRIZE
AmNews Staff Reports | 12/6/2018, 3:45 p.m. | Updated on 12/6/2018, 3:45 p.m.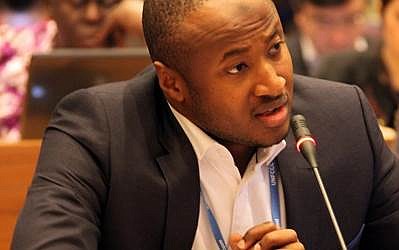 Dec. 3, 2018 (GIN)—A grand old man of liberation poetry, Mongane Wally Serote, the poet of the revolution and one of the foremost South African poets to emerge during the Black Renaissance of the late 1960s and early 1970s, is this year's National Poet Laureate of South Africa.
Writing in the African tradition of izibongo, or praise poetry, the 74-year-old Serote documented the hopes and fears of people under apartheid.
Times have changed since 1972, when Serote published his first book titled "Yakhal'inkomo"—the bellow of a bull as it is taken to slaughter.
These changes have not gone unnoticed by Serote, who was recently tweaked by South African novelist Zakes Mda in an online site. "Congratulations to my friend Wally Serote for being chosen poet laureate!" declared Mda. "Well-deserved … a literary poet of great repute, of high intellectual acumen, of wisdom and experience."
But where were the younger, female, more performance-oriented and therefore more popular, full of wisdom nonpartisan poets? Mda wondered. "That would have popularized poetry even more."
Serote urged his young colleague to have patience. "A beautiful thing has happened in our country where young Black women have entered the genre of writing, especially poetry and performance poetry." More than ever, he said, the role of young Black women in literature has become more important in fighting societal ills.
Serote spent his early years in Sophiatown, a Black township outside Johannesburg where he was exposed to the political activism of his grandfather and others in the community. His participation in the Black Consciousness Movement led to his detention under the Terrorism Act for nine months in 1969. Two volumes of short poems, "Yakhal-inkomo" and "Tsetlo," resulted from that period.
Serote was awarded a Fulbright Scholarship and received an MFA from Columbia University in 1979. His poetry during this period suggests influences from the Harlem Renaissance and Negritude movement with hints that the writing of Amiri Baraka, Don. L. Lee and Ishmael Reed offered him a new mode for expansion and expression.
Upon returning to Africa, he rejoined the ANC underground and military wing. His debut novel, "To Every Birth Its Blood" offers a riveting insight into the political activity in the 1970s, followed by "Gods of Our Time" on the growing militancy of civilians and the gathering intensity of military campaigns that ultimately led to the toppling of apartheid.
AFRICA SEEKS COMMITMENTS TO FIGHT CLIMATE THREAT AT WORLD CLIMATE CONFAB
Dec. 3, 2018 (GIN)—Seyni Nafo, spokesman of the African delegation at the World Climate Conference taking place this week in Poland, is not one to mince words about the serious climate threat now facing the African continent.
"We are the most vulnerable, we are the least responsible but we will suffer the most," the Malian-born Nafo summed up in an interview with the German news agency DW. The African continent is already experiencing the effects of climate change. In many places drought, torrential rainfall and flooding are regular occurrences.
"The person on the street does not see the impact of what is decided here at the COP24," said Nigerian environmental activist Nnimmo Bassey. "But people are seeing the real impact of global warming every day."