Talking SCHOP! Eating local: The good and the could be better
KYSHA HARRIS AmNewsFOOD Editor, @SCHOPgirl | 12/6/2018, 2:16 p.m.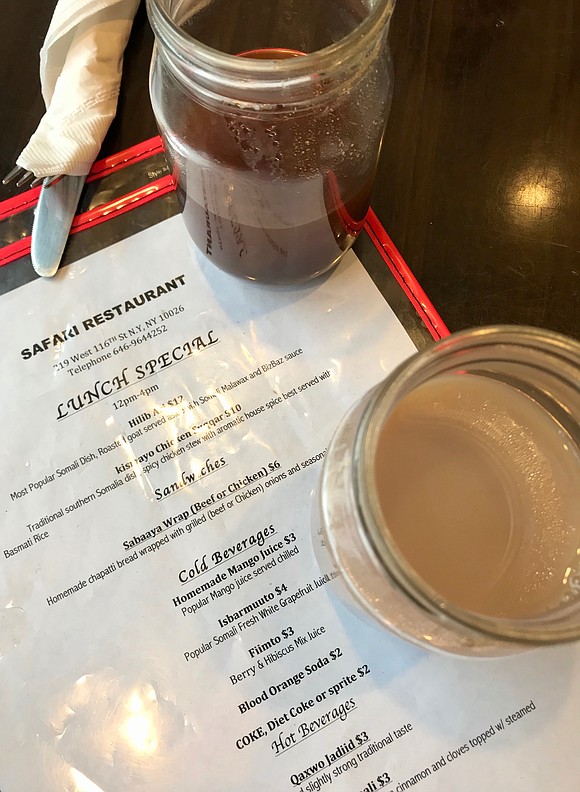 You know how I feel about my local restaurants, eateries and hot spots. I love their dedication to what they do, why they do it and how it contributes to our growing dynamic foodscape. Whether by invitation or just my own desire, I continue to explore and stay abreast of the foods available to us.
Recently, I had the opportunity to catch up with a colleague at the highly acclaimed Harlem restaurant, and the only Somalian restaurant in New York City, Safari (219 West 116th St., 646-964-4252, www.safariharlem.com). My experiences with Safari had been few and outside of the restaurant.
I always saw Safari packed with diverse customers, but I never made it in. So, my friend Lauren's suggestion was right on time. We met there on the early side of lunch and were the first to be served.
Lauren and I began with hot beverages to warm the bones. Lauren with the Somali coffee, qaxwo, infused with ginger, and I with cardamom, ginger and clove tea, shaax. We perused the lunch menu and decided to share our meal to taste more.
For our appetizers we ordered beef sambuza and vegetarian sabaayad. The flavors were so intense and delicious. Sambuza is a traditional Somali beef patty, fried and served with bizbaz dipping sauce. That was "The Good."
Here is where "The Could Be Better" begins, although it was the last straw in a series of food misfortunes or, in some instances, a cultural lost-in-translation. I took my first bite of the sabaayad, chapatti bread filled with stewed vegetables, and bit into half of a mango pit. I paused, sighed at my repeating misfortune, and called over the owner who told me, "It's for the flavor." That was not the answer for which the moment called.
I took a beat, much like I did after finding the first of three apricot pits in a chicken biriyani I ordered from Curry King on Columbus Avenue, and remained grateful I did not chip a tooth or seriously choke to death. (NOTE: Curry King reimbursed me for the dish, only, but I asked Grubhub for the remainder, just on principal.)
I pressed on to our entrée of the most popular Somali dish, hilib ari, roasted goat with basmati rice, but not before pulling out at least six pieces of bay leaf from a cup of rice. As a chef, I get using these ingredients to flavor foods, but they are inedible, could cause harm and should NEVER be served to customers.
I have shared this feedback with these restaurants but offer it here as an example of politely demanding customer service always. And for all restaurants, but most importantly those with ethnic foods who must work even harder to convert loyal patrons, you must always put your best foot forward. You have one chance to make a first impression.
With respect.
Happy eating and thanks for reading!
Kysha Harris is a food writer and editor, culinary producer, consultant and owner of SCHOP!, a personalized food service in NYC for more than 15 years. Follow her on Twitter and Instagram, @SCHOPgirl, on Facebook, /SCHOPnyc, and her blog, www.talkingSCHOP.wordpress.com. Questions? Comments? Requests? Feedback? Invitations! Email AmNewsFOOD at AmNewsFOOD@SCHOPnyc.com. Follow us on Instagram, Twitter and Facebook @NYAmNewsFOOD and tag us with #SoAmNewsFOOD with your food finds!