Young Knicks take strides toward relevancy
Jaime C. Harris | 12/6/2018, 3:08 p.m. | Updated on 12/6/2018, 3:08 p.m.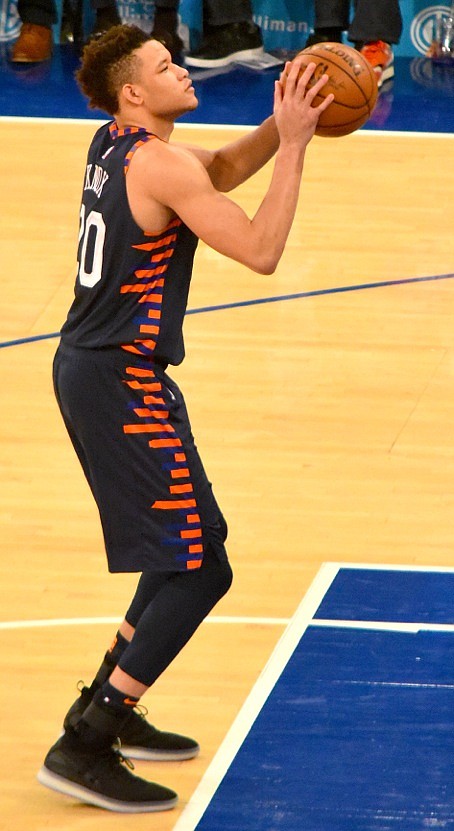 Becoming a relevant team in the NBA is not simply measured by wins and losses and other quantifiable metrics. It's also determined by reaching a level to which the opposition has to be thoroughly prepared, digesting the day's scouting report and knowing they will face a team that above all else regularly puts forth maximum effort.
Although the Knicks' record, 8-17 heading into their game tonight against the Boston Celtics on the road, doesn't reflect a team that is a significant factor on the league's landscape, they are trending in the right direction. But finding elusive positive consistency has been an impediment to making greater strides.
The juxtaposition of the Knicks' games against the Milwaukee Bucks Saturday and the Washington Wizards Monday, both at Madison Square Garden, tells the story of a young team still learning how to navigate the long grind of an 82-game schedule. Every minute, every possession matters and collectively determines outcomes.
In one of the NBA's most gripping games this season, the Knicks overcame a double-digit fourth quarter deficit, outscoring the Bucks and their 6-foot-11 superstar Giannis Antetokounmpo by 14 points over the last 6:39 of regulation to push the game into overtime on a late three-pointer by Emmanuel Mudiay.
With the Knicks down 124-121, Mudiay netted a three with 24:1 left to tie the score at 124-124. They went on to win 136-134 over a Bucks team that has been one of the league's best a little under 30 games in.
"We've been competing a lot throughout this whole year," said Knicks rookie forward Kevin Knox, who scored a career high 26 points. "We lost a lot of games that have been down to one, two, three [points]…We just kept fighting, competing and we just made sure that we kept chopping at the lead."
Two nights later, it was a contrasting ending. The Knicks also had to take out a proverbial ax and chip away at the Wizards' fourth quarter advantage, but their effort fell short as they left the Garden with a 110-107 loss. Unlike the Bucks, the Wizards are near the bottom of the Eastern Conference standings and a team the Knicks matched up with favorably. But they squandered a 61-52 halftime lead and quickly fell behind 80-69 in the third.
"I mean, no disrespect to the Knicks, but they're a young team," said Wizards forward Markieff Morris. "They're trying to find themselves." The veteran's assessment appropriately summed up where the Knicks are today as they continue to make strides in their development.