Theophilus Lewis, theater critic of the Harlem Renaissance
Herb Boyd | 12/7/2018, 10:53 a.m.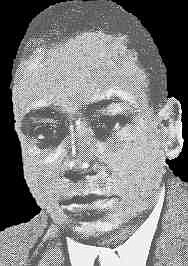 Even the most definitive books on the Harlem Renaissance and Black theater often omit any mention of Theophilus Lewis, whose reviews, criticisms and journalistic flair expand the era's prominence and notoriety.
Of course, the ever-alert Bruce Kellner cannot be included among those who might have slept on Lewis and his contributions. At the conclusion of his brief profile on Lewis in his book, "The Harlem Renaissance—A Historical Dictionary of the Era," Kellner quoted Theodore Kornweibel's assessment that was published in Arna Bontemps' anthology "The Harlem Renaissance Remembered": "Mere criticism was not his end; rather, he intended to help provide an ideology for the development of a national Black theater which would be both a source of a racial ethos and repository of the race's genius."
To a great degree, Lewis, himself, was a repository of the race's genius, and in a career that extended almost across the entire 20th century, he was an uncompromising force of engagement and activity.
Born March 4, 1891, to Thomas and Anne Lewis, in Baltimore, Md., Lewis was a typical student in the city's public schools, but he was atypical in his completion of courses, and with a tour of duty in the Army, he continued his lifelong pursuit of self-education. For a year, 1917-18, he was a member of the American Expeditionary Forces during World War I.
After military service, he lived in Detroit for three years before settling in New York City, where he began his long tenure of employment with the U.S. Postal Service. His first venture into journalism was with A. Philip Randolph's The Messenger, which emerged and grew along with the Harlem Renaissance. Lewis was so grateful for the opportunity that free admission to the plays he reviewed was sufficient compensation.
He was often at the Lafayette Theatre in Harlem and critical of the Lafayette Players, charging that they did the community a disservice "by focusing on revivals of popular Broadway shows rather than on producing Black plays about Black life…" as cited in Martin Duberman's biography of Paul Robeson. Possibly in reaction to Lewis's critique, the theater, in 1924, staged "Roseanne," starring Paul Robeson and Rose McClendon.
Soon, given his productivity and insight, he was awarded a regular column that allowed him to express himself about myriad performances onstage and in concert. To Lewis the theater was an avenue for change, and he was so devoted that he allowed his pieces to be published without seeking any remuneration, but he was a sharp critic with a biting, satirical edge very similar to George Schuyler's, with whom he shared a column, "Shafts and Darts," and Wallace Thurman, who he mentored. As a mentor he apparently wasn't that thrilled by Thurman's "Fire!!," which on receiving a copy he tossed it in the wastebasket.
In 1927, when "Earth," a play about voodoo rituals written by white playwright, Em Jo Basshe, opened on Broadway, Lewis lambasted the play, calling it "the latest Broadway forgery of Negro drama."
Given his penchant to dismiss plays with any hint of romanticizing Black "folk" life—particularly for white writers such as Du Bose Heyward and Paul Green—one wonders how Lewis felt about Zora Neale Hurston's work? It might have been Hurston's play "Color Struck" that is the second piece in "Fire!!" that enraged him, perhaps viewing her play as crude and vulgar and well below his standards that the "theater was an essential vehicle through which society could effect and consider social change and cultural development," the veritable hallmark of Renaissance strivings.