Theophilus Lewis, theater critic of the Harlem Renaissance
Herb Boyd | 12/7/2018, 10:53 a.m.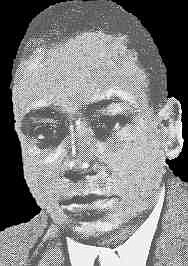 His tenure with The Messenger was really the springboard into the larger arenas of Black life, and his column was read religiously in Harlem, where he lived at one time on 154th Street, according to a letter he received from W.E.B. Du Bois. When Randolph and Chandler Owen began their commitment to unionizing, Lewis and Schuyler took over the publication and shifted its focus away from socialism and to the arts of the Harlem Renaissance.
After ending his relationship with The Messenger, Lewis started his own publication, The Looking Glass, while continuing to submit occasional articles to other magazines, journals and newspapers, including The Pittsburgh Courier, where he eventually he became the paper's theater and film critic.
But Lewis was not merely a drama critic of African-American productions. An example of his range is his review of Robert Bolt's "A Man for All Seasons" in 1961. Here are his opening comments: "While the Broadway theatre generally is mediocre at best, and too often meretricious or nauseous, it occasionally rises to maturity. Such occasions were last season's 'Becket,' 'The Devil's Advocate, and 'Emmanuel,' the beautiful Nativity play at the Gate. So far, the present season has given us 'Gideon,' a biblical drama, and a portrait of St. Thomas More in 'A Man for All Seasons' (at the Anta). Sir Thomas More was one of the outstanding men of Christendom—scholar, author, lawyer, a member of Parliament, judge and Lord Chancellor. His sovereign was Henry VIII, who hoped his chancellor would find ecclesiastical reasons for annulling the king's marriage with Catharine of Aragon."
Lewis died in 1974, and, like much of his life, there is no specific date and place where it occurred. It was widely reported that he was 83.