African safaris off the radar
SHERYL NANCE-NASH | 12/13/2018, 2:09 p.m.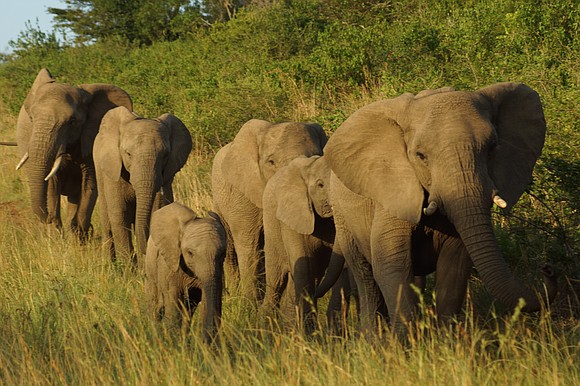 When thinking of African safaris, the ever-popular Kruger National Park in the Limpopo and Mpumalanga provinces in South Africa probably comes to mind. But Africa has an embarrassment of riches for wildlife adventures. You have myriad options when you're ready to explore the continent. Need some ideas? Start here.
Loisaba Tented Camp—Laikipia, Kenya
There are tents and then there are luxury tents. Loisaba is luxury—high ceilings, polished wood floors, gourmet cuisine, stylish African décor and an infinity pool. If you're adventurous, ask for one of the star beds and sleep under the stars on a platform. By day or night, the game drives are best, but in between them you can fish, mountain bike, horseback ride, or take a guided bush walk or camel trek. Like elsewhere, enjoy the perfect ending to a safari, watching a sunset in the bush, a tradition called sundowners. Expect nibbles, a Tusker (local beer), Champagne, gin and tonic or Dawa, a classic vodka-doused Kenyan cocktail.
Gahinga and Virguna Safari—Rwanda and Uganda
Chase your dreams. You've been fascinated by gorillas forever. Seize the opportunity to track mountain gorillas in Parc National des Volcans in Rwanda. In Uganda, immerse yourself in the Batwa culture, climb a volcano and track golden monkeys in Mgahinga, Uganda. But don't think you need to sacrifice luxury. The ancient Virunga Lodge sits high atop a ridge that has unforgettable views of the Virunga Volcanoes and the twin lakes Bulera and Ruhonda.
Thula Thula Private Game Reserve and Lodge—Zululand, South Africa
How can you go wrong with a name like Thula, which means peace and tranquility in Zulu? Not only do you get day and night game drives, where you can expect to see elephants, buffalo, rhinos, leopards, giraffe, birds and more, but you get an inside look at the life of Lawrence Anthony, noted conservationist and best-selling author of "The Elephant Whisperer," "Babylon's Ark" and "The Last Rhino," and wife Francoise Malby Anthony, who runs the tented camp and lodge alone since his
death in 2012. You might be as excited about the cuisine as the wildlife. Thula is beloved for dishes
such as Seafood Bouillabaisse Creole, Oxtail Bourguignon, Chantilly homemade ice cream with
caramelized red berries and much more.
.Murchison Falls National Park—Uganda
It's hard to beat the drama and awe of Murchison Falls. Uganda's largest park is bisected by the Victoria Nile, which is forced through a narrow gorge before it plunges 130 feet over a remnant rift wall, creating Murchison Falls. The park begins and ends with the Nile, which fuels life there, from the hippos and crocs to the wildlife you'll find on morning game drives across the grasslands. Enjoy cruises to the river banks at the foot of the falls. Hike to the top of the falls. Expect the unexpected with some 450 types of birds and 76 mammals, including elephant, giraffe, leopard, lion and buffalo. Consider staying in Baker's Lodge, Paraa Safari Lodge or Chobe Safari Lodge. Complete your trip with a stop at nearby Budongo Forest, where you'll find Uganda's largest population of chimpanzees.