Despite a misstep as a teen, Kyler Murray is this year's Heisman winner
VINCENT DAVIS | 12/13/2018, 1:54 p.m.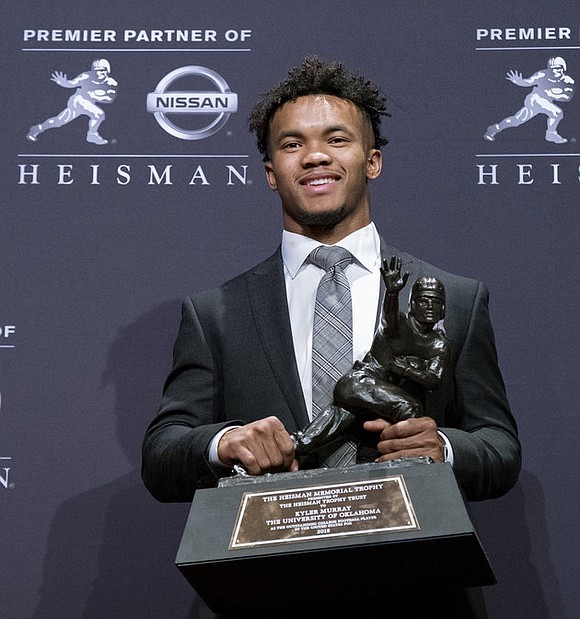 Heisman Trophy winner Kyler Murray, the quarterback of the Oklahoma Sooners, now famous in his own right, has joined the ranks of celebrities and athletes who have had past tweets come back to haunt them. Most noticeably Kevin Hart, Rosanne Barr, Alec Baldwin, Josh Hader (the Milwaukee Brewers), Josh Allen (the Buffalo Bills) and Donte Divencenzo (the Milwaukee Bucks).
It was discovered that the 21-year-old college junior posted a tweet when he was just 15 that was dug up and presented, but it didn't prevent him from receiving his prestigious athletic award on Saturday evening in Midtown Manhattan.
"I apologize for the tweets that have come to light tonight from when I was 14 and 15," he said. "I used a poor choice of word that doesn't reflect who I am or what I believe. I did not intend to single out any individual or group."
Despite this slight misstep, Murray is the second Oklahoma student athlete in a row to win the award. Baker Mayfield drafted earlier this year by the Cleveland Browns, the first pick overall, won it last year.
Besides football, Murray excelled in baseball and was drafted ninth overall by the Oakland Athletics during the summer. Oklahoma faces Alabama in the College Football Playoff at the end of the month. Murray plans to report to the A's spring training camp when it begins in a few months.
Murray received 517 first-place votes (2,167 points) followed by Tua Tagovailoa of Alabama with 299 first-place votes (1,871 points).
Dwayne Haskins of Ohio State came in third. All three are quarterbacks.
Murray is the seventh Oklahoma player to win the Heisman, tying Notre Dame and Ohio State. He's their fourth quarterback. They're the first university to have quarterbacks win the award in consecutive years.
Born in Texas, Murray transferred to Oklahoma after playing for Texas A&M in 2015. He was also named the AP Player of the Year and received the nation's top quarterback honors. Murray leads the nation in total yards, 4,945, a school record.