Holiday shopping ideas in Harlem and The Brooklyn Museum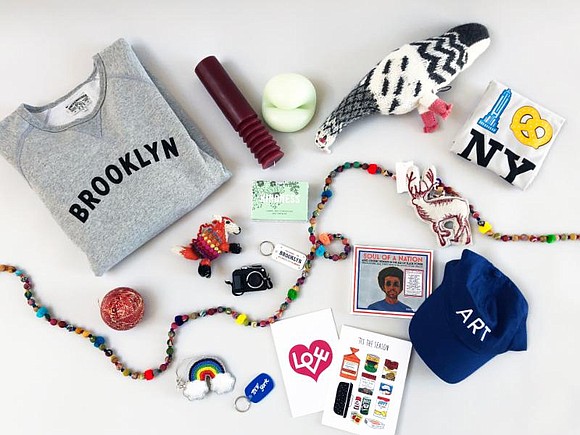 Christmas is right around the corner, and it's helpful to know about some places to shop on the way home! At SoHarlem, located at 1361 Amsterdam Ave., Suite 340, the spotlight is on milliner Amanda John. A multifiber artist and Harlem native, her hats are one-of-a-kind art pieces. She works with felt and combines images with quilting and embroidery. She is a classically trained milliner educated at the Fashion Institute of Technology. She has shown works at ArtsWestchester Hattitude, The City Lore Gallery Hat Exhibition, The Arts Club Bonnie Bash, and has also designed hats for the Metropolitan Opera.
There are a limited number of art millinery artworks available at SoHarlem's designer studio for the holidays, where you'll also find other artists offering scarves, wraps and t-shirts. And it's a fun place to be! Tip: If you shop SoHarlem online, you will receive a 20 percent discount when you use the code FOR YOU!

Bebenoir, Harlem's high-fashioned boutique, has moved from their Seventh Avenue location (formerly the Theresa Hotel) to 2 W. 125th St., on the corner of Fifth Avenue. They offer a sophisticated handbag collection and fine jewelry. They also stock a selection of hats, scarves, dresses, coats and menswear. Prices are affordable. There are many imports, and lots of luxurious looks. For store hours, call Bebenoir's Boutique at 646-859-1342.
The Brooklyn Museum offers holiday gifts at their gift store, where you can find a wide range of unique one-of-a-kind gifts for both adults and children. Inspired by the museum's diverse collections, the shop has an extensive selection of art. (A Brooklyn Museum membership also makes a great gift: membership benefits include 12 admissions, access to world class collections, previews, receptions, special exhibitions and more.) In the gift shop, you will find a beautiful Jeremyville Print made exclusively for the Brooklyn Museum. Created by a New York-based artist, the print illustrates the neighborhoods of Brooklyn in his characteristically playful style. Visit the museum's website at www.brooklynmuseum.org for the store hours and a list of gift items and prices.
For beauty gifts, the department stores and places such as Sephora often have the best selections. Most beauty gift items come with a special extra gift, depending on your budget. On the market, there's a new Miracle Repair Collection that includes moisturizing shampoo, now at a 30 percent savings. It's a sulfate-free formula that smooths the cuticles' surface, leaving dry, thirsty curls clean, quenched and, best of all, restored.
Miracle Repair Collection's ingredients are infused with black honey and a special extract. This shampoo draws moisture to damaged hair and eliminates breakage. A powerful formula, it will remove product buildup and soothe dry, itchy scalps. This product is available at www.Tginstore.com.