NYPD slammed for violent grab of baby in altercation with young mom
NAYABA ARINDE Amsterdam News Editor | 12/13/2018, midnight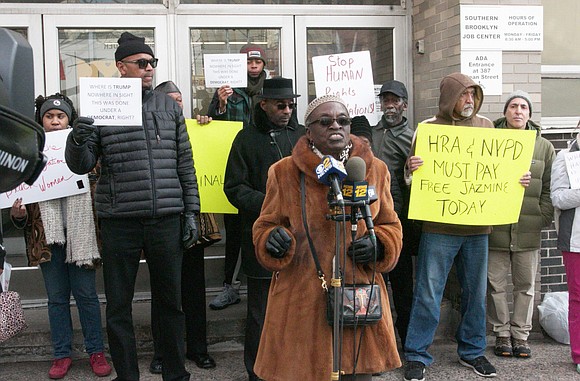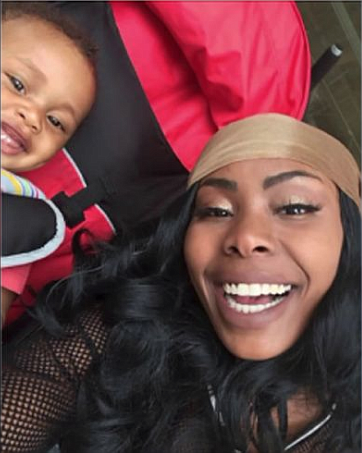 Combat versus care.
Outrage, frustration and tears had New Yorkers demanding the release of a young mom who was brutalized by police and security personnel who tried to snatch her 1-year-old baby from her arms at a Brooklyn SNAP Center. A video went viral of Jazmine Headley, 23, being assaulted by several NYPD and HRA officers last Friday. She was cuffed and arrested.
Quoting international unifier and working people sympathizer Robert Nesta Marley, Public Advocate Letitia James said, "Being poor is not a crime. The actions of the NYPD in this video are appalling and contemptible. A full investigation must be conducted immediately, and the results should be made public so there is a transparent accounting of how this horrific situation occurred. All involved officers, including the assigned supervisor, should be assigned desk duty pending the investigation results. No mother should have to experience the trauma and humiliation we all witnessed in this video."
Four days of public outcry ensued. The incident began when Headley was in the overcrowded benefits office, waiting for four hours, and unable to find a seat. After not being able to find a seat, Headley sat on the floor with her year-old baby, and refused to get up. The incident could have been resolved with staff simply bringing more chairs, which observers have reiterated since the incident occurred.
Several police and "peace" officers tried to subdue the young mom as one officer in particular tried to grapple the baby from her arms, as she yelled, "You're hurting my baby!" The same cop then pulled out her Taser and pointed it at people who were protesting and telling her to stop, and then pointing it at the head of Headley who was on the floor desperately holding on to her son.
Charged with resisting arrest and child endangerment, Headley was taken to Rikers Island for four days.
At the time Brooklyn Defender Services attorney Scott Hechinger stated, "[The] child is on way to hospital again. He'll be OK but [has] lingering bruising."
Immediate was the demands for her release, charges against the offices and for her to be reunited with her son, who was given to her mother eventually by ACS.
After four days at Rikers, after rallies and demands on the Brooklyn D.A. Eric Gonzalez and Mayor Bill de Blasio, Headley was released and said Tuesday night, "I'm just happy to be free and I just need to see my boy."
Releasing her, the judge called the whole debacle a "horrific scene."
"I'm just so grateful to everyone and I'm just happy to be free and I just need to see my boy," Headley emphasized.
Humble and obviously grateful, the Brooklyn resident added, "I just want to thank everybody for the support that I've been getting in New York and just all the great people who's been supporting me. I haven't gotten to read all of the articles and all of the great things and all of the love, and I am accepting it and I'm just so grateful to everyone."
"We maintain that the Brooklyn DA must bring criminal charges and arrest the law enforcement personnel involved in this assault on Jazmine and her child and the false arrest and incarceration of Jazmine," Attorney Roger Wareham of rally organizers The December 12th Movement stated. "HRA must fire the personnel involved and release all information on complaints of misconduct at this and other centers."
The Amsterdam News went to both the HRA headquarters on Fourth Avenue in Downtown Brooklyn and the Boerum Hill SNAP office where the altercation took place.
Security in both centers refused to allow reporters to enter past the reception or speak to any official in charge.
With a window reportedly smashed late Monday night or early Tuesday morning, a group held a protest against violence against women in the same location. When asked what happened to the window, a security officer replied, "It broke."
Department of Social Services Commissioner Steven Banks stated, "I am reinforcing efforts to train officers and staff to better defuse situations before the NYPD is called for assistance and directing refresher de-escalation trainings for HRA Peace Officers and FJC security staff immediately. The HRA peace officers who were involved in this incident are currently on leave, and they will be placed on modified duty when they return to work pending our investigation of what happened."
Wednesday morning, Headley went to a Mercer County Court in New Jersey to answer to an outstanding warrant in a credit card case.
Scott Hechinger from Brooklyn Defender Services stated, "Jazmine Headley was issued a Pre-Trial Intervention. She is not pleading guilty and all charges will be dismissed and expunged after 36 months, or 6 months with early termination. Jazmine is satisfied with this outcome and gratified the case is resolved and behind her."
He later tweeted, "The case is effectively over! Case will automatically be dismissed. The case is resolved & she's on her way back to Brooklyn. She's satisfied & gratified the case is behind her."
Dozens of people attended a rally held outside the HRA Brooklyn headquarters Tuesday. Electeds such as Assemblywoman Latrice Walker and City Councilwoman Inez Barron joined other activists such as December 12th Movement's Viola Plummer and attorney Roger Wareham to demand the release of Headley, that charges be dropped against her and that all involved law enforcement be arrested and charged.
Before her release, Wareham said, "We are here today to demand justice for Jazmine Headley and all the unknown Jazmine Headleys—Black women who are victimized for simply trying to live like human beings and take care of their families.
"Jazmine is on Rikers Island because she needed to renew her child care benefit so she could continue to work; because HRA doesn't treat their clients like human beings and provide simple basic amenities, like enough chairs for their clients' hour-long waits; because the mindset of the police—whether Black, Asian or Latino—just like the Black police who patrolled the Black townships of Apartheid South Africa, is that Black people have no rights."
After successfully demanding that the Brooklyn DA drop all charges against Headley, Wareham continued, "We demand that HRA Commissioner Steven Banks take the following steps: Release the history of complaints at this HRA office; request that the DA arrest and charge the police involved with the criminal attack on Jazmine and the threatening of bystanders; and that Steven Banks immediately transfer the HRA employees involved to an area which keeps them from dealing with the public and institute steps for their termination."
Communities United for Police Reform were among the many organizations demanding justice for the young mother, and they echoed the sentiments of many vocal protestors. Manny Vaz, a representative for CPR, said, "Too often, Black women and other women of color like Jazmine are dehumanized in our city's benefits offices, shelters and other public facilities. Make no mistake: Mayor de Blasio's refusal to make the NYPD more accountable to communities of color continues to endanger New Yorkers like Jazmine who are simply trying to live their lives. Trump isn't the only politician allowing brutal family separations to happen in this country. Mayor de Blasio is allowing NYPD and HRA officers to rip families of color apart right here in the place he has the audacity to call the fairest big city in America. There must be swift and real justice for Jazmine and real accountability for all of the NYPD and HRA officers who harmed Jazmine and her child."
Speaking to the media Wednesday, de Blasio said that the incident "was deeply troubling." He added, "It was 100 percent unacceptable. What happened to Jazmine Headley and her son Damone should never have happened—it's unbelievable to me that people who had the title 'peace officer' would do this to a woman and her baby. We will not allow this to happen in New York City. I want to be crystal clear. This happened in a public benefits center. It will not happen again."
Pressed further, he continued, "There's a full review going on right now. Two of the HRA peace officers have been put on modified duty. There is an ongoing investigation at HRA. There is an ongoing investigation at the NYPD as well. We will get to the bottom of exactly what happened and we will put in place specific changes to make sure this does not happen again…She posed no threat whatsoever…There was no call for that kind of response. So, this situation—disturbing, shocking, unacceptable, can't happen again."
Words, but the community wants action taken against the offending offices and an HRA policy that would never allow this to happen.
Wednesday the mayor stated, "Everything we've been doing in policing, but not only in policing, with security that works, for example in our shelter system, everywhere, our School Safety Agents, you name it—everyone is being taught de-escalation. Now, I have asked Steven Banks to look at the situation and come back with whatever changes are needed."
The mayor continued, "I don't know specifically at HRA where there are peace officers, what type of training was provided in terms of escalation. We can get you that answer today. I do know the norm has been, the thing we believe in, is de-escalation and it has to happen anywhere that our uniform officers of any status deal with the public…if that training was provided, clearly it was not followed. If it wasn't provided sufficiently, we need to. But even without the benefit of that training, common sense tells you don't treat a mother and her baby that way. Period."
He assured, "Whatever benefits are due to her, we'll make sure they're granted immediately…I want to apologize to her on behalf of all 8.6 million New Yorkers. This should never have happened to her. It shouldn't have happened in any—it's a public center. It's run by the City of New York. It's paid for by the taxpayers. What happened was unacceptable so I want to issue a formal apology to Ms. Headley."
Unimpressed retired detective Marq Claxton, director of the Black Law Enforcement Alliance, said, "The police seem unwilling to offer accommodations to poor and/or Black people. Their go-to move is, too often, violence. Instead of de-escalation, they incite and exacerbate tensions, provoking a physical response or resistance that they can then criminally charge. The cycle of poverty too often results in unnecessary police combat mode contact leading to incarceration."