NYPD slammed for violent grab of baby in altercation with young mom
NAYABA ARINDE Amsterdam News Editor | 12/13/2018, midnight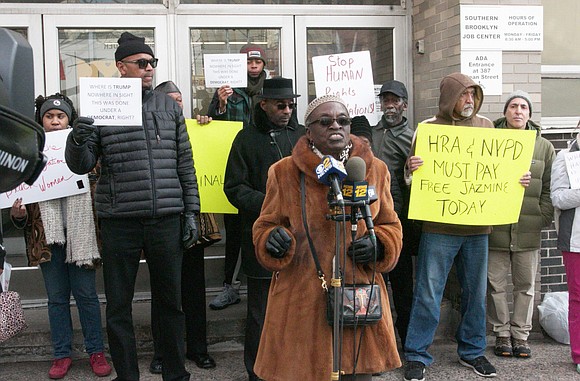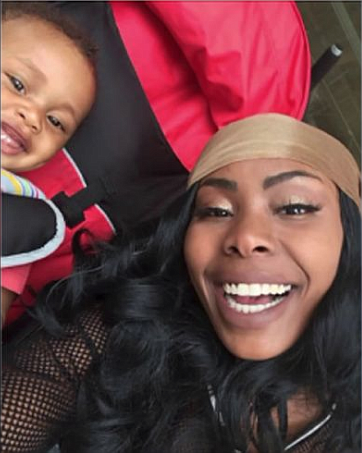 Combat versus care.
Outrage, frustration and tears had New Yorkers demanding the release of a young mom who was brutalized by police and security personnel who tried to snatch her 1-year-old baby from her arms at a Brooklyn SNAP Center. A video went viral of Jazmine Headley, 23, being assaulted by several NYPD and HRA officers last Friday. She was cuffed and arrested.
Quoting international unifier and working people sympathizer Robert Nesta Marley, Public Advocate Letitia James said, "Being poor is not a crime. The actions of the NYPD in this video are appalling and contemptible. A full investigation must be conducted immediately, and the results should be made public so there is a transparent accounting of how this horrific situation occurred. All involved officers, including the assigned supervisor, should be assigned desk duty pending the investigation results. No mother should have to experience the trauma and humiliation we all witnessed in this video."
Four days of public outcry ensued. The incident began when Headley was in the overcrowded benefits office, waiting for four hours, and unable to find a seat. After not being able to find a seat, Headley sat on the floor with her year-old baby, and refused to get up. The incident could have been resolved with staff simply bringing more chairs, which observers have reiterated since the incident occurred.
Several police and "peace" officers tried to subdue the young mom as one officer in particular tried to grapple the baby from her arms, as she yelled, "You're hurting my baby!" The same cop then pulled out her Taser and pointed it at people who were protesting and telling her to stop, and then pointing it at the head of Headley who was on the floor desperately holding on to her son.
Charged with resisting arrest and child endangerment, Headley was taken to Rikers Island for four days.
At the time Brooklyn Defender Services attorney Scott Hechinger stated, "[The] child is on way to hospital again. He'll be OK but [has] lingering bruising."
Immediate was the demands for her release, charges against the offices and for her to be reunited with her son, who was given to her mother eventually by ACS.
After four days at Rikers, after rallies and demands on the Brooklyn D.A. Eric Gonzalez and Mayor Bill de Blasio, Headley was released and said Tuesday night, "I'm just happy to be free and I just need to see my boy."
Releasing her, the judge called the whole debacle a "horrific scene."
"I'm just so grateful to everyone and I'm just happy to be free and I just need to see my boy," Headley emphasized.
Humble and obviously grateful, the Brooklyn resident added, "I just want to thank everybody for the support that I've been getting in New York and just all the great people who's been supporting me. I haven't gotten to read all of the articles and all of the great things and all of the love, and I am accepting it and I'm just so grateful to everyone."