Cuomo says the quiet parts out loud in agenda speech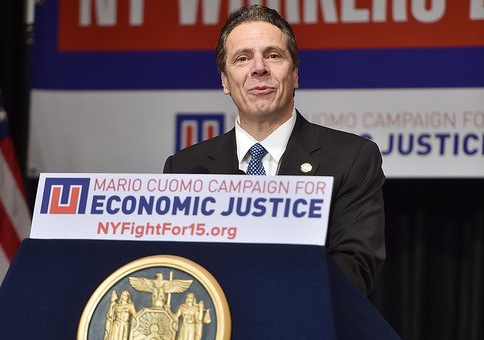 Amelia Adams, a representative for We Rise to Legalize (a diverse coalition of faith leaders, civil rights leaders, community leaders and grassroots advocates), echoed similar sentiments, pushing for Cuomo to not only end marijuana criminalization but also give the communities hurt by disproportionate marijuana arrests the first chance at selling legal weed.
"As he moves to legalize marijuana in 2019, Governor Cuomo must prioritize racial justice and empower communities of color harmed by the war on drugs," stated Adams. "New York should give the first licenses for selling legal marijuana to New Yorkers convicted of nonviolent marijuana-related crimes and to minority and women-owned businesses."
Cuomo also made waves with just a couple of lines in the middle of his speech when he advocated for automatic voter registration and giving New Yorkers a day off for Election Day.
"In the meantime, the federal government is working to disenfranchise voters; we have to do the exact opposite and improve our democracy," said Cuomo. "How do you do it? Automatic voter registration. Make it easier to vote and participate by voting by mail and by early voting, synchronize the federal and state election days."
He continued, "And let's make a real statement about the importance of voting and let's make Election Day a state holiday and say to people, 'Get out and vote.'"
Lawrence Norden, deputy director of the Democracy Program at the Brennan Center for Justice, said with voting reform and other changes around state races, New York has the chance to be a leader when it comes to the voting process.
"With small-donor public financing for state races and robust voting reforms, the governor can make Albany responsive to the people," stated Norden. "These changes would create the foundation necessary to pass reforms that have been neglected at New Yorkers' peril: housing, health care, the environment, criminal justice, education and more. As he has done in the past, Governor Cuomo called today for comprehensive campaign finance reform and voting reform. The new leadership in the legislature should champion these changes, not block them."
Some of Cuomo's platform could be seen as a result of his Democratic Primary challenger, actress Cynthia Nixon, who took to social media to take credit for pushing the governor further to the left. "Sometimes people ask me: was it worth it? YES. Here's why…," said Nixon on Twitter while highlighting a New York Times list of highlights from Cuomo's 2019 agenda.
Democrats are empowered by Cuomo's platform and by the so-called blue wave that saw liberals take over the House of Representatives in November. In New York, a collective of community organizations, activist groups and advocacy organizations hope this agenda is only the beginning for the governor.
"Today we send a message to every legislator, but primarily a message to Cuomo, Speaker Heastie and Senate Leader Stewart-Cousins: we are New York, we are united, we will not accept excuses or watered down policies," said VOCAL-NY Co-Director Jeremy Saunders. "Pass the People's Platform or suffer the political consequences."