Miami's spring/summer and resort styles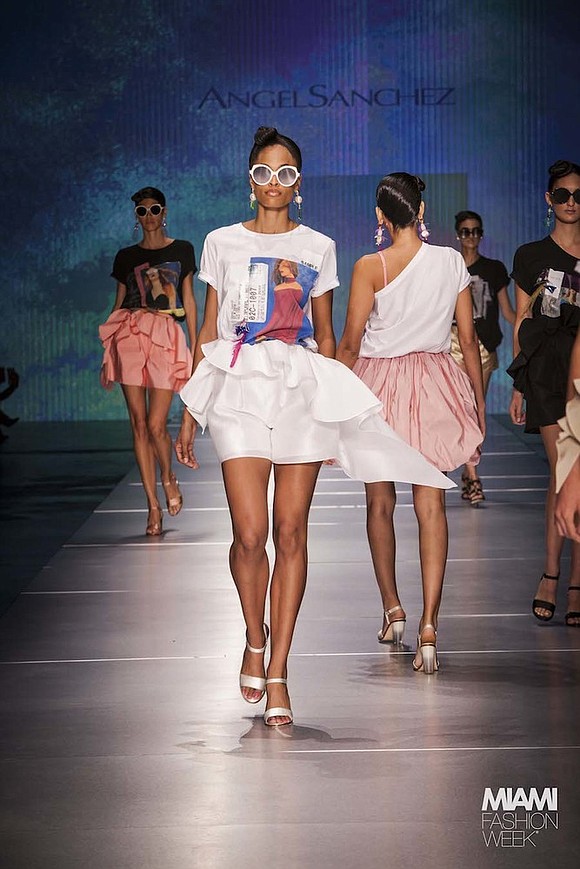 At Miami Fashion Week, there were several collections that were noteworthy.
New York-based celebrity designer Angel Sanchez is one of the world's top bridal and eveningwear designers. Born in Trujillo, Venezuela, he has created clothes for the international set and Hollywood celebrities. Often, his clothes are spotted on Eva Longoria, Sandra Bullock and Meryl Streep.
His design career started at a young age in his mother's dress-making workshop. He worked as an architect before becoming a fashion designer. For spring/summer '19, his styles were in geometrical shapes. There were one shoulder tops tucked into soft, flowing skirts with uneven hems. Off-shouldered print day-dresses were lady-like. They were pretty in above-the-knee lengths.
Since his design studio opened in New York City, he has been unstoppable in the fashion industry. Sanchez's style reflects his passion for highly structured, contemporary and feminine fashions in architectural form. His designs are well-known and appreciated worldwide.
Agatha Ruiz De La Prada's platform sandals stood out with all of her fashion looks. Colors were bright. Lengths were long and short. Coming from Madrid, she studied in the School of Arts and Techniques of Fashion of Barcelona. When she was 20, she began working as an intern with designer Pepe Rubio in Madrid. Ruiz De La Prada has been a guest and representative of Spanish Fashion on main catwalks around the world. Her designs are artistic and are shown in major galleries and museums from America to Asia and Europe. Her details are delightful featuring huge puff sleeve treatments.
This year, designer Benito Santos celebrates 10 years of fashion and the brand. He focuses on sketchy face prints that are featured on many of his pieces. Born in Tepehuaje de Morelos Jalisco, Mexico, Santos utilizes unique cutting techniques and hand embroidery on each of his designs. Among women who love ultra-feminine and glamorous evening gowns, Santos is very popular.
Renee Minus White is the author of "Maybe: My Memoirs, a Chantel's Story," about an original member of the 1950s Doo Wop group that recorded "Maybe," The Chantels. Available for $21 at Barnes & Nobles, Google, Kindle or at Dorrance/Rosedog Bookstore at 800-788-7654.