Mother attacked by police with baby in arms suing city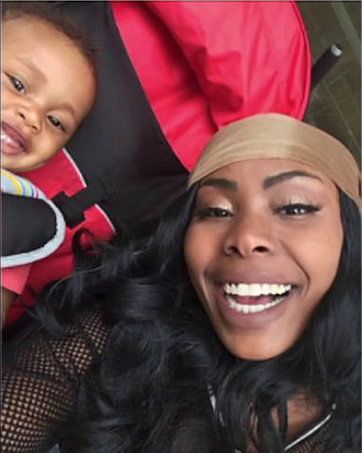 The community continues to rally around young Brooklyn mother Jazmine Headley, who was thrust in the spotlight last week after video surfaced of police and security at a Human Resource Administration center in Brooklyn trying to take her 1-year-old baby.
Since the story broke, those involved are sharing their side of the story, accusing Headley, 23, of starting the situation and even getting violent.
"It's the story of many other people, it's not just my story," Headley said in a recent published interview. "My story is the only one that made it to the surface. I just remember being talked to very viciously. It was more or less: 'You're going to do what I say, and that's it.'"
Headley initially faced a slew of charges and spent five days in jail on Rikers Island before Brooklyn District Attorney Eric Gonzalez dropped all charges, leading to her release.
According to The Internal Affairs Bureau, a review of the situation found the NYPD did nothing wrong and none of the officers involved will be charged. However, the NYPD is blaming security at HRA.
"The NYPD has conducted a strenuous review of what happened because the public deserves answers, and we must take every opportunity to continuously strengthen how the NYPD serves the people of New York City," Police Commissioner James O'Neill said in a statement. "This review shows that before the incident depicted on public video, NYPD officers are working with the client to de-escalate the situation."
Two security guards at HRA have been suspended for 30 days without pay as a result of the incident. The security guards claimed they asked Headley to get up from the floor with her baby and when she refused, they allege Headley became belligerent, used profanity and even bit and kicked one of the security guards.
They also said that contrary to initial reports that claimed there were no seats for Headley to sit, there was plenty of room for her and her baby to use a chair.
Headley is now suing the city in an effort to prevent other people from going through what she went through. A larger conversation has started over how people are treated in HRA facilities when getting public assistance such as food stamps, MTA vouchers and help getting NYCHA housing. One report revealed that since last year, police were called 2,212 times to HRA facilities and 97 people were arrested.
Support continues to grow for Headley as she brings the city to court. A GoFundMe page started by the Brooklyn Defender Services has raised more than $36,500 for her as of Wednesday. The money will be used for child care and other expenses.