Pop up shop in Miami for holidays
RENEE MINUS WHITE | 12/20/2018, 12:59 p.m.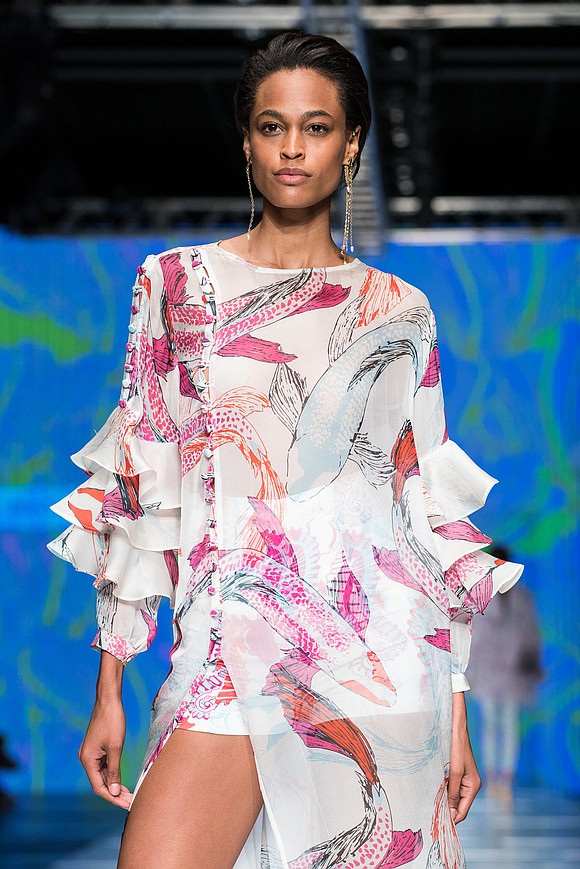 Patricia Field's art fashion team is in Miami for December, where they are putting on a hot fashion show filled with lights, cameras and fashion action on the back terrace of Wynwood Block. The clothes were fabulous and outrageous, as usual. If you are in the area, visit their pop up gallery at 180 NW 27th St., Miami. They will be open until Dec. 31. In New York, the shop is located at 200 E. Broadway.
Back on the Miami Fashion Week Runway, designer Daniella Batlle accessorized some models with fascinating tassel earrings in her resort 2018 collection. Her two-piece ensembles were bare. There were plenty of peplum tops over slim pants and skirts.
She lived in different parts of Colombia, from sea side to the mountains. Her exposure to different cultures, traditions and colors is evident in her work. She has always had strong links with the fashion industry, because of her mother, a former queen of various beauty pageants and a fashion columnist. Also, her grandmother was an impeccable dressmaker who owned her own workshop. Both of them introduced Batlle to the world of fashion. She has always been surrounded by fabrics, runways and feminine beauty and aesthetics. From the beginning, she designed garments and prints for a nonprofit organization. Subsequently, she became a fashion journalist, and later worked as a design and pattern-making teacher in a university. Her resort collection, shown in Miami, was very feminine, modern and magnificent.
Another designer, Rene Ruiz, was born in Cuba. He immigrated to the United States at an early age and settled in Miami. During his formative years, Miami was a very influential place to be. During the '90s, Ruiz opened an atelier in South Florida. He quickly became the go-to designer for celebrities and socialites. His eye for high-quality fabrics and personalized attention to the details and tailoring of his garments were extremely important. He also creates his own fabrics. Throughout the years, he has gained an international following. His clothes are luxurious, original and sophisticated.
Ruiz's designs fill a void in the luxury market. His collection reflects his talent and quality standard. In blending his own inspirations with Miami's rich cultural heritage, he creates for the modern woman. His designs are available at the Coral Gables showroom and at exclusive stores nationwide and around the world.