AmNews Year In Review 2018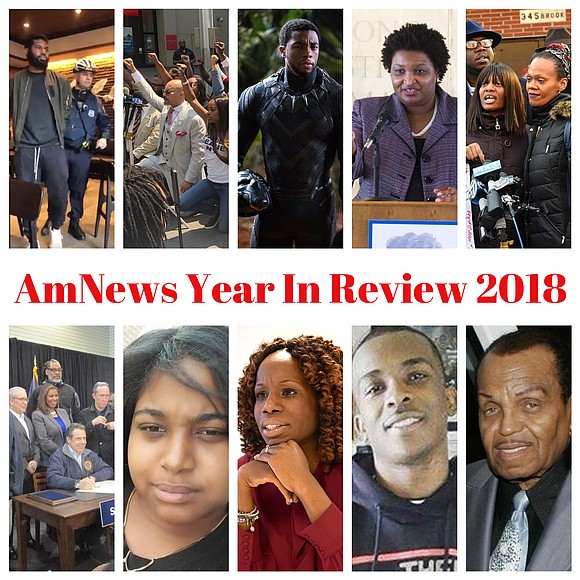 January
A cold wave takes over North America with temperatures in New York City going as low as 9 degrees. The New York City Housing Authority comes under fire when dozens of public housing developments go without consistent heat and hot water during an arctic blast in the city. At the Golden Globes, media maven Oprah Winfrey becomes the first African-American woman to receive the Cecil B. DeMille Award. During her acceptance speech, she highlights the struggles of women and the "Me Too" movement. Funeral services are held for activist Erica Garner, the daughter of late police brutality victim Eric Garner. Erica died of a heart attack at age 27. Clothing retailer H&M receives criticism over using a Black child to model a sweatshirt with a "coolest monkey in the jungle" slogan. President Donald Trump is criticized after using the word "shithole" to describe Latin American and African nations during a meeting with lawmakers about immigration. The New Jersey State Prison in Trenton, N.J. and Southern State Correctional Facility in Delmon, N.J. lift a ban on the highly acclaimed book, "The New Jim Crow," after pressure from the American Civil Liberties Union. Brooklyn Assemblywoman Pamela Harris is accused of stealing tens of thousands of dollars in public funds, including money meant to help victims of Hurricane Sandy rebuild. She later pleads guilty to the charges and resigns from the State Assembly. Mayor Bill de Blasio signs the Housing Not Warehousing Act, designed to help identify vacant sites that could be used for affordable housing development. The Manhattan district attorney's office begins no longer requesting that bail be set in most misdemeanor and violation cases. Applied behavioral scientist Pamela Palanque-North passes at 66. A city commission created to decide the fate of several monuments of controversial figures decided to keep most of them up but add historical markers with further context. One of the most debated monuments is one of Christopher Columbus at Columbus Circle. Martin Luther King Day is celebrated in the nation for the 32nd year. This year's celebration marks 50 years since King's assassination. The 49th NAACP Image Awards are held in Pasadena, Calif. The Women's March marks one year since the massive international 2017 demonstration. The organization sets its priorities on the midterm elections. Sheila Oliver is inaugurated as New Jersey's first Black lieutenant governor with Governor Phil Murphy. Reality television star and former Black Trump supporter Omarosa Manigault Newman is terminated from her position as Director of Communications for the Office of Public Liaison for the White House. Brooklyn native Najee Ali Baker, 21, is fatally shot at a party at Wake Forest University. Baker was attending the party from his school, the neighboring historically Black Winston-Salem State University. Civil rights leader the Rev. Dr. Wyatt Tee Walker dies in Chester, Va. Walker was known in New York as senior pastor for 37 years at Canaan Baptist Church of Christ in Harlem. Reports reveal that NYCHA chairwoman Shola Olatoye allegedly lied under oath about lead paint inspections at a City Council meeting. Mayor de Blasio announces a $200 million investment in boiler replacements, modernizing hot water systems and upgrading heat controls at some of the housing developments. Outrage emerges in Harlem when protesters put a Pink Pussy Hat on the head of the Harriet Tubman statue. South African jazz artist Hugh Masekela dies at age 78. The U.S. government enters a federal government shutdown as a result of a dispute over Deferred Action for Childhood Arrivals. Leslie Wyche, known as "The Mayor of Harlem" dies at age 73. Journalist Trymaine Lee is named a correspondent for MSNBC. Mayor de Blasio announces that all NYPD patrol officers will wear body cameras by the end of 2018. PBS airs the documentary "Tell Them We Are Rising: The Story of Historically Black Colleges and Universities," to rave reviews. President Trump gives his first State of the Union Address. At the 60th Grammy Awards, Bruno Mars dominates, with his album "24K Magic" winning Record of the Year and Album of the Year.
February
Black History Month is celebrated with the theme "African-Americans in Times of War."
The Rev. Jesse Jackson comes to the city for the 21st annual Wall Street Project Economic Summit. The theme for the event is "50 Years After the Assassination of Dr. King: The Struggle Continues for Freedom, Equity and Inclusion in Corporate America." A scathing report reveals that nearly half of New York City public school cafeterias have serious health code violations, including rodents and insects. The 2018 Winter Olympics are held in Pyeongchang, South Korea. Black athletes, including Shani Davis, Maame Biney, Eric Jackson and Elana Meyers Taylor, dominate in speed skating and bobsled. Temptations lead singer Dennis Edwards dies at 74. White middle school teacher Patricia Cummings at Middle School 118, The William W. Niles School, steps on the backs of Black students during a social studies class on slavery. The Philadelphia Eagles beat the New England Patriots 41 to 33 during Super Bowl LII. A report reveals that 80 percent of NYCHA residents don't have heat or hot water in the winter. Oprah Winfrey tapes her "SuperSoul Conversations" podcast at the Apollo Theater with actress Salma Hayek, late night talk show host Stephen Colbert, Broadway star Lin-Manuel Miranda, actress Yara Shahidi, host Trevor Noah and actor and director Jordan Peele. Jacob Zuma resigns as president of South Africa after nine years in power. Malcolm Xavier Combs, a student at Christ the King High School and member of the National Honor Society, was the victim of discrimination at the hands of high school officials who deny his request to get the name "Malcolm X" on the back of his senior sweater. Malcolm X's children and the Rev. Al Sharpton step in to help. Budget Director Mick Mulvaney unveils a proposal that would cut food stamps benefits in half and give low-income Americans food boxes instead. Middle School 224 principal Patricia Catania, who is white, comes under fire after confiscating Black History Month projects from students and tells a teacher not to teach Black history. Mayor de Blasio discusses his plan to reduce crime even further in the city during his State of the City Address. A school shooting occurs at Marjory Stoneman Douglas High School in Parkland, Fla., killing 17 people and injuring 17. White NYPD officer Sgt. Hugh Barry is found not guilty for murdering of 66-year-old Black, schizophrenic Deborah Danner in the Bronx. Police were called to control Danner when officers allege she lunged at them with scissors. Funeral services are held for Private First Class Emmanuel Mensah who died in December, along with 12 other people, while rescuing residents during an apartment fire in the Bronx. Marvel's "Black Panther," starring Chadwick Boseman and Lupita Nyong'o opens in theaters to rave reviews, breaking box office records. The film, based on the Black comic book superhero taking place in the fictional African nation of Wakanda, grosses $1.347 billion worldwide, becomes the highest-grossing solo superhero film and the ninth-highest-grossing film of all time. Former television personality Tavis Smiley sues his former employer PBS claiming the network breached its contract and damaged his production company when it fired him in December over sexual-harassment allegations. Black-owned Carver Bank sells its 125th Street corporate office building. Darrell "Bubba" Wallace Jr. becomes the first Black driver in the Daytona 500 in nearly 50 years. The daughter of comedian Bill Cosby, Ensa, dies at age 44. A report reveals that 100,000 people living in NYCHA housing were exposed to lead paint poison. Paul Manafort is indicted on five federal criminal charges, including money laundering and foreign lobbying violations. In a whirlwind day of drama, Miami-Dade County Public Schools superintendent Alberto Carvalho turns down the job of New York City schools chancellor after announcing his plans to take the position. As the 2018 gubernatorial race gets underway, City Council Member Jumaane Williams announces his plans to run for lieutenant governor.
March
A report by Buzzfeed reveals that more than 300 staffers of the NYPD lied, cheated, stole or even assaulted people while on the job. Anti-violence activist the Rev. Vernon Williams dies at age 59. Mayor de Blasio names Houston Superintendent of Schools Richard Carranza as the city's new schools chancellor. The 2018 Disney Dreamers Academy with Steve Harvey and ESSENCE Magazine takes place at Walt Disney World. At the 90th Academy Awards Jordan Peele earns the Oscar for Best Original Screenplay for "Get Out," and NBA player Kobe Bryant takes home the Oscar for Best Animated Short for "Dear Basketball." Rapper Craig Mack dies at age 47. A private charter helicopter taking a tour of the city crashes into the East River, killing five people. Students across the country participate in the National School Walkout against gun violence in response to the Stoneman Douglas High School shooting that killed 17 people. Herman Bell, a member of the Black Liberation Army, is approved for parole. Gov. Andrew Cuomo visits NYCHA to examine conditions in public housing with several City Council members. He makes the visit while Mayor de Blasio is out of state. Cuomo pledges $250 million for NYCHA. Adult film actress Stormy Daniels alleges she had an affair with President Trump and files a lawsuit against him alleging that a nondisclosure contract she signed is invalid. MTA employee St. Clair Richards-Stephens dies when he falls 20 feet while working at the 125th Street and Lexington Avenue subway station. Actress Cynthia Nixon, best known for her role on "Sex and the City," declares her run for New York governor. Noted Black journalist and National Association of Black Journalists founder Les Payne dies at age 76. The Trump administration announces that a citizenship question will appear on the 2020 census. A dozen states sue over the new question. Protesters in more than 900 cities around the world participate in demonstrations against gun violence and mass shootings, calling for stronger gun control in the "March for Our Lives." Police in Sacramento fatally shoot Black, unarmed 22-year-old Stephen Clark. President Trump fires Secretary of State Rex Tillerson. He is replaced by CIA Director Mike Pompeo. Louisiana Attorney General Jeff Landry announces that the Baton Rouge police officers in killing of Black, unarmed Alton Sterling will not be charged. A scandal rocks Howard University when six employees at the school lose their jobs after an investigation into the misappropriation of university financial aid funds. Students on campus stage several protests. Rapper DMX is sentenced to one year in prison for tax evasion. Natasha Hemmings makes history as she becomes the first African-American CEO of Girl Scouts Heart of New Jersey.
April
Activist, politician and former First Lady of South Africa Winnie Mandela dies at age 81. Gov. Cuomo declares a state of emergency for NYCHA after making several visits to developments and sees hazardous conditions such as mold, chipped paint, leaky faucets and a lack of heating. He pledges a total of $550 million for public housing in state funding. The nation commemorates 50 years since Martin Luther King Jr. was assassinated in 1968. Thousands gather in Memphis, Tenn., where King was murdered. Black female WWII veteran Millie Dunn Veasey dies at 100. Black student victims from the Stoneman Douglas High School shooting emerge to say that they're voices are not being heard. The first-ever HBCU Museum opens in Washington, D.C. Embattled NYCHA Chairwoman Shola Olatoye resigns amid several controversies in public housing. The FBI raids the home, office and hotel room of President Trump's longtime lawyer, Michael Cohen, pursuant to a federal search warrant. NYPD officers fatally gun down Saheed Vassell in Brooklyn. Vassell, who suffered from mental illness, was shot after officers thought he had a gun that turned out to be a pipe. Rapper Kendrick Lamar's album "Damn" wins the Pulitzer Prize for music. It's the first non-classical and non-jazz work to win the award.
More than 20,000 parents sign petition sent to Mayor de Blasio to address racism in schools. Theater legend Gertrude Hadley Jeannette dies at age 103. A group of public housing residents file a class action suit against NYCHA demanding rent refunds after being left without heat and hot water. Two Black Starbucks customers, Donte Robinson and Rashon Nelson, are arrested at a Starbucks store in Philadelphia after they were denied use of the location's bathroom. The coffee chain giant receives major backlash and closes for a day for racial bias training for its employees. Similar incidents begin to make the news across the nation in which police are called on African-Americans engaged in non-threatening activity. Former First Lady Barbara Bush, the wife of former President George H.W. Bush, dies at age 92. Ramon Smith and Jarron Moreland, both Black and 21, are lynched in Oklahoma. Police find their dismembered bodies in a pond outside of Oklahoma City. Three white men and one white woman are arrested for the crime.
Gov. Cuomo signs an executive order giving parolees right to vote. Dr. Kendra V. Johnson becomes the first African-American superintendent in Montclair, N.J. A Minnesota prosecutor announces that no criminal charges will be filed in the 2016 death of music legend Prince after a two-year investigation. West 136th Street and Adam Clayton Powell Jr. Boulevard is named after late Tuskegee Airman Dr. Dabney N. Montgomery. Black Waffle House customer James Shaw Jr. is called a hero when he disarms a man who opens fire at a Nashville location. Rapper Meek Mill is released from prison after serving a four-year sentence for violating parole. A jury finds comedian Bill Cosby guilty on three counts of aggravated indecent assault in the case involving Andrea Constand. B.B. King Blues Club & Grill in Times Square closes after 18 years, citing rising rents. Buddy Guy, Rick Ross, Slick Rick, Doug E. Fresh and George Clinton are among those who perform on the venues final night. The Rev. Dr. James H. Cone, creator of Black Liberation Theology, passes at 79.
May
New York Attorney General Eric Schneiderman resigns after reports surface that four women accuse him of sexual and physical abuse. Solicitor General of New York Barbara Underwood is named interim attorney general. Black Yale student Lolade Siyonbola has the police called on her when she's found sleeping in a common room on the Ivy League campus. Rapper Kanye West stirs up controversy when he says slavery in America was choice by Blacks. Adrienne Nicole is named ambassador for the NYC Mayor's Office of M/WBE program. The fourth Annual Harlem EatUp! takes place. President Trump announces his intention to withdraw the United States from the Iranian nuclear agreement. Ex-NY Assembly Speaker Sheldon Silver is guilty on all counts in his corruption retrial and sentenced to seven years in prison. Public Advocate Letitia James announces her candidacy to be New York's next attorney general after Schneiderman's resignation. A royal wedding takes place in England when Prince Harry ties the knot with Meghan Markle, who is biracial. The Kilauea volcano erupts in Hawaii, forcing 1,700 residents to evacuate. The New York African Film Fest celebrates 25 years. Daniel St. Hubert is convicted of stabbing to death 6-year-old Prince Joshua "PJ" Avitto and seriously injuring his friend Mikayla Capers in the elevator of a public housing complex in East New York, Brooklyn in 2014. Hubert is sentenced to 50 years to life in prison. Harvey Weinstein is charged with rape and several other counts of sexual abuse involving two separate women after turning himself in to police. Stacey Abrams becomes the Democratic nominee in Georgia's gubernatorial race. She first Black female major party gubernatorial nominee. Mayor de Blasio tells city police officers to halt arrests on people smoking marijuana in public after asking for a review of how law enforcement handles marijuana policy. Uniformed EMS Officers Local 3621 file a class-action lawsuit against the FDNY and the City of New York, accusing them of continual discrimination against nonwhite and female uniformed public servants for promotions and raises. John Bunn is released after serving a 17-year prison sentence for a crime he didn't commit. He was wrongly convicted at age 14 in 1991 for the killing of an off-duty corrections officer in Brooklyn in 1991. President Trump posthumously pardons Jack Johnson, the first Black heavyweight champion. Johnson was convicted in 1913 by an all-white jury for an outdated offence of transporting women across state lines for "immoral" purposes. Actor Morgan Freeman is accused of inappropriate behavior, sexual harassment by several women. Spike Lee wins the Grand Prix Award at the Cannes Film Festival. New York City First Lady Chirlane McCray visits female inmates at Rikers Island. Harlem Assemblyman Herman D. Farrell Jr. dies at age 86. Civil rights activists and prominent leaders rally outside NFL Headquarters over football players' right to kneel during the national anthem. The reboot of the sitcom "Roseanne" is canceled by ABC after the show's star Roseanne Barr posts a racist tweet about Black former Presidential Senior Adviser Valerie Jarrett. Debra Lee relinquishes her position as chair and CEO of BET Networks.
June
Louis Farrakhan Jr., the eldest son of Nation of Islam Minister Louis Farrakhan, dies in his sleep at age 60. The city reaches a $2 billion settlement with the federal government to repair NYCHA buildings. Filmmaker Spike Lee hosts a community celebration for fans in Brooklyn commemorating what would have been the late Prince's 60th birthday. Allen African Methodist Episcopal Church in Cape May, N.J. is destroyed by fire. The house of worship is one of the oldest Black churches in New Jersey. President Trump meets with Supreme Leader of North Korea Kim Jong-un in Singapore. Beyoncé and JAY-Z surprise fans with the release their first duo album, "Everything Is Love." News breaks that more than 200 migrant children separated from their parents at the U.S/Mexico border are staying in New York City at a facility in East Harlem. Protests over the family separations take place in all 50 states. Black WWII veteran Ulyses Jackson turns 103. Five people are killed in a mass shooting in the newsroom of The Capital newspaper in Annapolis, Md. The City Council's Committee on Public Safety holds a public hearing regarding the NYPD's gang policing tactics, namely the departments maintenance of a "gang database" and police raids in Black communities. Police fatally shoot 17-year-old Antwon Rose in East Pittsburgh as he fled from a car in which he had been riding with two other people that police officers stopped on a residential street. The officer involved, Michael Rosfeld, is charged with criminal homicide. The United States announces it will withdraw from the United Nations Human Rights Council. Patriarch of the Jackson family of musical entertainers Joe Jackson dies at age 90 of pancreatic cancer. Canada becomes the first major industrialized country to legalize cannabis for recreational use. Netflix's chief communications officer, Jonathan Friedland, is fired from the streaming service after he repeatedly says the N-word during a staff meeting. Associate Justice Anthony Kennedy announces that he will retire from the Supreme Court. The city is in shock after the brutal killing of Lesandro "Junior" Guzman-Feliz in the Bronx by members of the Dominican gang Trinitarios in a case of mistaken identity. Alexandria Ocasio-Cortez wins during the New York State primary congressional races, beating longtime incumbent Joe Crowley. Former NAACP President Ben Jealous wins the Democratic gubernatorial nomination in Maryland.