Dr. Pearl Primus, choreographer, dancer and anthropologist
Herb Boyd | 12/27/2018, 12:48 p.m.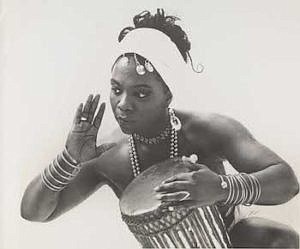 When word spread that the great dancer and choreographer Arthur Mitchell had passed, I was reminded of another dancer and choreographer, Pearl Eileen Primus, who preceded him on the stage with almost the same prominence and acclaim. Primus came to mind once again Dec. 17 when Raven Wilkinson, the first African-American to dance for a major classical ballet company, joined the ancestors.
Unlike Mitchell and Wilkinson, Primus was not a native New Yorker, but was born in Trinidad, and by the time they had their color barrier breakthroughs in 1955, she had returned to the island where she was born Nov. 29, 1919, to continue her research on folklore and dance. It was here that she met and married Percival Borde. Apparently it was here, also, that their son, Onwin, was born and would later distinguish himself as a music director and percussionist.
Primus' parents, Edward and Emily Primus, immigrated to the U.S. in 1921, just as the fabled Harlem Renaissance was taking shape. Raised in New York City, Primus was not immune to the energy and vitality that was a daily constant in the lives of its inhabitants. She attended Hunter High School and graduated from Hunter College in 1940 with a major in biology. She was an outstanding athlete during her school days as a sprinter, and she established records in the broad and high jump.
Always extremely active, Primus had no intention of becoming a dancer, but when the National Youth Administration, where Mary McLeod Bethune was once at the helm, had no jobs in health education or psychology—evening courses she had taken at New York University—she was placed as an understudy in one of the administration's dance troupes.
Possibly because of her athletic prowess and physical dexterity, she advanced rapidly and soon was the recipient of a scholarship to the New Dance Group, the school's first Black student. Interestingly, she had worked as a janitor at the school in exchange for lessons. When the school closed down in 1941, Primus was able to secure a number of menial jobs, at one time working as a welder and as a switchboard operator.
Although her performance opportunities were limited with the group that continued to exist after the school was closed, Primus persevered, and in 1942 she made her debut at the New York Young Men's Hebrew Association, which led to an engagement at the Café Society Downtown. For 10 months she was an entertainer at the Café Society Downtown before moving on to the Café Society Uptown. By now she had her own troupe of dancers and musicians, including noted folk singer Josh White.
Subsequently there was a 10-day run for her on Broadway at the Belasco Theatre and month-long appearance at the Roxy Theatre. Several months in 1946 found her onstage as a featured dancer in "Show Boat" and as a witch doctor in "The Emperor Jones," in the Chicago Civic Opera. After these performances, she resumed leading her troupe through a number of engagements in the South.
In 1948, as the recipient of the last Rosenwald Foundation fellowship, she had originally proposed to develop a dance project based on James Weldon Johnson's work "God's Trombones," but chose instead to go to Liberia to study African dance forms. Aided by the technique she learned from Martha Graham and other mentors, she was ready to get her powerful feet on the ground in Africa, and that was like a dream come true because she had, for the most part, been deeply involved in African dance patterns and concepts, many of which she earlier wrote about with expertise for Dance Magazine. In many respects, her approach was consistently true to African motifs, rarely deviating from the traditional forms of expression, and in this approach she differed dramatically from a number of other dance troupes that had incorporated African dance in their productions. There was no concession on her part; her interpretations of African dance had to be real and authentic.
Primus' immersion into Africa and its variety of dance spread beyond Liberia, where President William Tubman had given her the Star of Africa medal, to other regions of West Africa, including study in Angola and Senegal. Despite her tireless activity, she still kept one foot in the classroom, teaching and diligently pursuing her doctorate in dance and anthropology at Columbia University.
Meanwhile, along with her husband, who by now was more than competent as a dancer, they opened their own dance company, which was often extended invitations perform globally. Even so, her educational pursuits never waned, and she completed her doctorate at the New York University School of Education in 1978. As she noted in 1968, "Dance has been my teacher, ever so patiently revealing to me the dignity, beauty and strength in the cultural heritage of my people as a vital part of the great heritage of all mankind." She added, "Dance is my medicine. It's the scream that eases for a while the terrible frustration common to all human beings who because of race, creed or color, are 'invisible.'"
Primus' legacy lives on through her choreography, and none more intensely dramatic and passionate than her "Impinyuza" (1952). It has been featured by the Alvin Ailey Dance Company, among other places. She is remembered, too, by the number of students who studied at her dance school, the Pearl Primus Language Institute. Borde died in 1979, and Primus rarely performed after that, although she continued teaching from 1984 to 1990 at the Five College Consortium in western Massachusetts.
Among her many awards was the National Medal of Arts bestowed on her by President George H.W. Bush in 1991. Three years later, Oct. 29, she died in New Rochelle, N.Y.