Emerging designers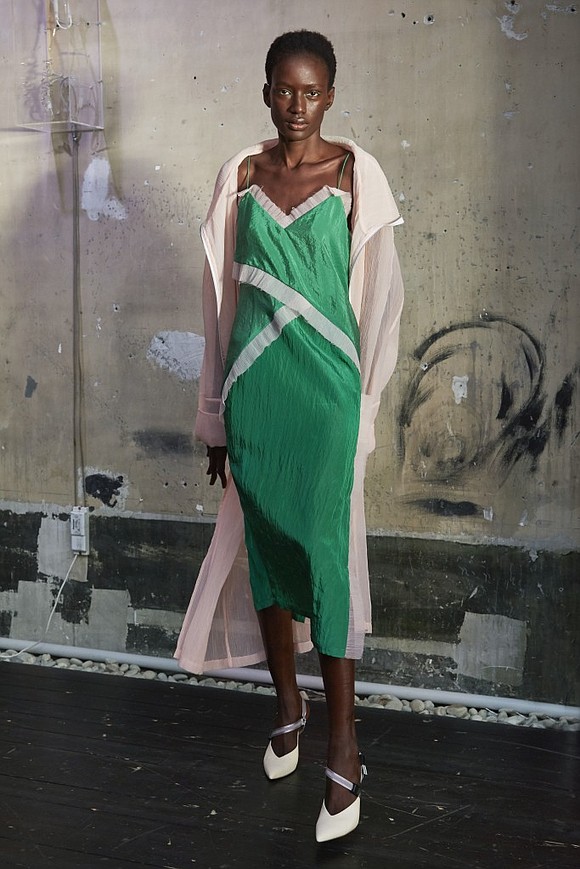 In Paris, New Now offers extra visibility to emerging young designers. Utilizing videos, the federation gives young talented designers a place to hone their design skills and show their work. They are committed to promoting uniqueness and support for new brands.
One of their designers, Dawei Sun, trained himself at the houses of John Galliano and Balenciaga before he co-founded the women's ready-to-wear collection Belle Ninon Paris. In 2011, he was awarded "Nouveaux Talents De La Mode" by Elle Magazine. He was also nominated as artistic director for French fashion house of Cacharel. After years of experience, he opened his own label, Dawei. For spring/summer 2019, he created a sophisticated group of dresses and sportswear pieces. Details were delicate and feminine. Color combinations were clever.
At Tmall China Day, there were three designers on the bill at their New York Fashion Week presentation. Angel Chen, a Chinese label, used a colorful approach to fashion and fusion of East and West. It has made her one of the country's brightest young talents. Now based in Shanghai, Chen boasts stock lists and exclusive collaborative projects with top names such as Selfridges, Urban Outfitters, H Lorenzo, Lane Crawford and Luisa Via Roma. She has a creative and commercial presence in China. However, she also participates in Milan and Shanghai Fashion Weeks.
JNBY, another Tmall China Day designer, is highly popular and recognized. They have developed a popular women's clothing line. Their slogan is "Just naturally be yourself," which is deeply rooted in their customers' hearts. For spring/summer '19, they combined elements including fashion, energy, interests and frankness. In their collection, the focus was on research, materials, designer involvement and feelings with dress experience. For the young woman between the ages of 25 and 40, their looks are romantic, independent and elegant. They want you to feel the marvelousness and poetry of normal life. That keeps the brand energetic and vigorous.
Particle Fever, the first independent sportswear label in China, is a young, fast-growing startup. PF takes an eccentric approach to sportswear, breaking through the traditional design of sportswear in an avant-garde way. Because of the company's pioneering projects in advanced fiber and sewing technology, arts, installations and community management, PF has millions of followers on social media.
PF owns the patents for their products, along with an in-house visual arts crew and an installation design center. They often experiment with all kinds of crossover projects that are related to sports, multiple insights of internet, arts, space and culture.
Naersiling is an independent brand of EEkA Fashion Group, founded in 2009 and based in Shenzhen, China. For women who express a spiritual freedom in dressing, Naersiling offers profound, yet stylish looks.