Omoyele Sowore running to be president of Nigeria in 2019
NAYABA ARINDE Amsterdam News Editor with Additional reporting by ODILI OBI | 12/27/2018, 11:48 a.m.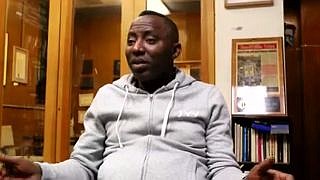 Criss-crossing the nation, activist, publisher and presidential-aspirant Omoyele Sowore has been described as the "voice of New Nigeria." Among other things.
But this energetic, pro-democracy, corruption-revealing, government-challenging, marathon-running, up-and-coming New Jersey/Nigeria-living, insults and slings and arrows-dodging, married man and father told the Amsterdam News in an exclusive interview at our Harlem offices that he has a 10-point plan to make Nigeria the powerhouse nation it should be.
After three years in office, current president Muhammadu Buhari of the All Progressives Congress is running again—alongside 78 other candidates.
Sowore is unfazed.
"It is time for someone to run who has got a good head on their shoulders to rule Nigeria, and someone who is capable, has intellect," he said. 
Born in ilaje, Ondo State, in southwest Nigeria, Sowore studied geography and regional planning at the University of Lagos, and in New York he earned a master's degree in public administration from Columbia University. He also taught Modern African History at the City University of New York and Post-Colonial African History at the New York School of the Art.
This academic and activist has picked as his VP the very experienced medical doctor Dr. Rabiu Ahmed Rufai (Jigawa State).
Although mainstream Nigerian news focuses on frontrunners of the All Progressives Congress and Peoples Democratic Party, Atiku Abubakar notwithstanding, few have garnered the grassroots groundswell of Sowore.
Yet, he and his brand-new African Action Congress has been excluded from the Jan. 19, 2019, presidential debate organized by the National Election Debate Group. They are currently in court fighting that decision.
Sowore has been a constant thorn in the side of many Nigerian administrations. For years, he has been known for being physically confronted by the Army and police. Since his days as a student at the University of Lagos, he has criticized government policy failure and corruption.
In Manhattan in 2006, Sowore started Sahara Reporters, the online investigative media outlet focusing on exposing corruption, political failings and abuses of power that negatively affect the people of Nigeria. People took notice of the outlet, which was able to bring otherwise unreported and under reported incidents and news to the public.
On Nigerian television, on social and in print media, Sowore is portrayed as a Fela Anikulapo Kuti-style renegade. Uncontainable enthusiasm for him is shown for him not only by thousands of everyday people who have come out to rallies in 32 (so far) of the 36 states in Nigeria but also in places such as Australia, Germany, and the U.K.
People relate to him.
"My father was a teacher," he said. "He's late now. I grew up in a polygamous home. Three wives. I was the first child of what was 20. And now there are 16 of us left, eight boys and six girls."
Sometimes he had to take of the younger children by himself sometimes. On occasion, they were crying, sick and hungry.
"I didn't know where to find them food, and our parents went to farm," he said. "It was tough. So that's the type of experience I had growing up. I grew up also in the Delta region of Nigeria, where most of the oil wealth comes from. So we have seen devastation done to the environment, and how the part of Nigeria that was supposedly laying the golden egg, was the poorest."