Talking SCHOP! Looking back on 2018
Kysha Harris | 12/27/2018, 12:58 p.m.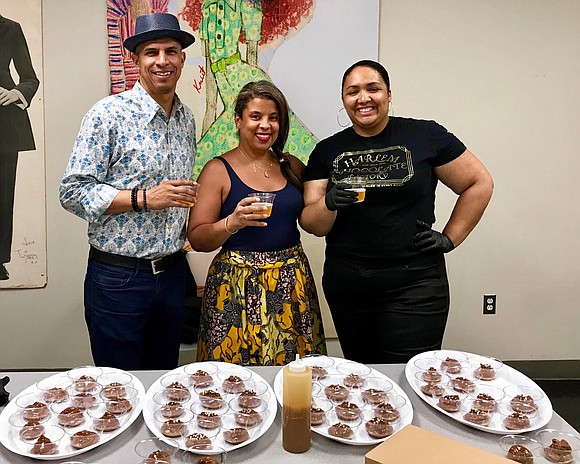 I hope you had a very merry Christmas and you are looking forward to a prosperous New Year. The past year has proved to be filled with lots of good cooking, eating, events and travel. There is a lot to cover, but here is a quick synopsis for you.
There were some pretty epic dinners to pull up on my palate, such as chef Adrienne Cheatham's Sunday Best dinner series she held at Clay. Cheatham was also at the Juneteeth Dinner at the James Beard House with fellow "Top Chef" contestants Tanya Holland, Brother Luck and Chris Scott, creating a magical evening of food and celebration.
The James Beard House also hosted more outstanding dinners, such as the first CBD-infused dinner in its history with the help of Filipino chef Jordan Andino and Gabe Kennedy. The annual Harlem EatUp! dinner there, too, was a perfect collaboration among Harlem chefs and a nice way to kick off the festival where our Dapper Dan received the Luminary Award and we danced away in the tents of Morningside Park.
Some of my most memorable events were moderating the Beer & Chocolate Unexpected Pairings talk at the Museum of the City of New York with Jessica Spaulding of Harlem Chocolate Factory and Julian Riley of Harlem Blue. Of course, teaching the young women of the Harlem chapter of Jack and Jill of America how to prepare a family dinner made my heart smile.
I have been a judge for the annual Harlem Park to Park Harlem Harvest Festival Bake Off for the past four years, and this year's winner in the cookie and cake categories blew my mind! I want a Janie Bakes cake for my birthday in 2019. And talking about food makers, the annual Summer Fancy Food Show at the Javitz Center was packed with food makers of color from Neilly's Foods to Yoosh's.
There was also a little travel to Bermuda to stay at the Hamilton Princess Hotel and eat at Marcus Bermuda and to Virginia to vineyard hop with my cousin and drink rosé to gorgeous sunsets. Great memories!
Finally, congratulations to all who opened this year Bar 314 (from the owners of babbalucci), Harlem Hops, Ruby's Vintage (from the owners of Sexy Taco), Dun Huang and, again, Shake Shack.
Happy New Year and thanks for reading!
Kysha Harris is a food writer and editor, culinary producer, consultant and owner of SCHOP!, a personalized food service in NYC for more than 15 years. Follow her on Twitter and Instagram, @SCHOPgirl, on Facebook, /SCHOPnyc, and her blog, www.talkingSCHOP.wordpress.com. Questions? Comments? Requests? Feedback?  Invitations!  Email AmNewsFOOD at AmNewsFOOD@SCHOPnyc.com. Follow us on Instagram, Twitter and Facebook @NYAmNewsFOOD and tag us with #SoAmNewsFOOD with your food finds!