Advocates want mayor to release study on safe injection facilities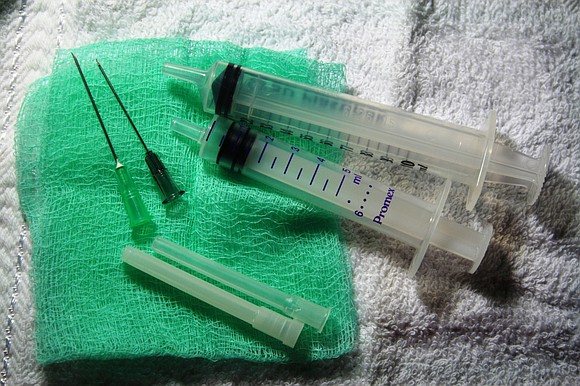 With the City of Philadelphia contemplating a program that would provide intravenous drug users a medically supervised place to get high, advocates want New York to follow suit.
In an effort to combat the increasing rate of opioid overdoses in the city, Philadelphia's government is looking into the legalities and community impact of establishing safe injection facilities. Philadelphia Public Health Commissioner Dr. Thomas Farley, who served as New York's Health Commissioner from 2009 to 2014 under the Michael Bloomberg administration, showed support for the move, saying in a statement, "We have to use every proven tool we can to save their lives until they recover from the grip of addiction."
New York Police Commissioner James O'Neill said that although the department doesn't have a position on safe injection facilities, it is in conversation with the Department of Health and Mental Hygiene about the issue. He stated that the issue was about the "sanctity of human life."
Kassandra Frederique, New York State director of the Drug Policy Alliance, said although she's pleased by the NYPD's openness on the issue, she's waiting for the mayor's office to state its purpose.
"The NYPD's willingness to work with the Department of Health to bring an innovative, life-saving public health intervention to New York City amid substantial increases in overdose deaths is exactly the sort of forward-thinking action that we need to prevent New Yorkers from dying unnecessarily of overdoses," said Frederique in an emailed statement. "In a moment when New York State's overdose crisis continues to grow, with overdose deaths killing more New Yorkers than traffic accidents, homicides and suicide combined, we need bold thinking and action."
Last September, the New York City Council announced an allocation of $100,000 to the health department to study supervised injection facilities.
At the end of last week's media conference call about the Metropolitan Transit Authority funding, Mayor Bill de Blasio was asked to provide an update on the study and when it will be presented. "Yes, big and complex matter that's taken some very careful study," the mayor said. "I think relatively soon we will be able to speak to the results of that study. There is still some work to do but I do think pretty soon we'll be able to come back on that."
De Blasio, however, wouldn't provide an exact timeline of the study's release.
Jeremy Saunders, co-executive director of VOCAL-NY, declared the mayor's actions not good enough.
"Mayor de Blasio made headlines this week when he joined a national effort and filed a lawsuit against manufacturers and distributors of opioid prescriptions," said Saunders in a statement. "The truth is, that action was politically easy. If he wants to prove his progressive commitment to saving lives, he won't just release this report, he will take immediate action to create safer consumption spaces in New York City."
Advocates are also calling on the New York State Legislature and Gov. Andrew Cuomo to pass the Safe Consumption Services Act (A8534). According to the language in the bill, it would "reduce overdose deaths associated with opioid use and the dangers to the public caused by public IV drug use by authorizing the New York State Department of Health and local health jurisdictions to establish and operate safer consumption services programs-spaces where individuals can use pre—obtained drugs under the supervision of medical professionals."
The staff members of the programs would collect used hypodermic needles and syringes, provide sterile injections supplies and teach patients about safe consumption practices.