Congressman Meeks takes a stand—Queens town hall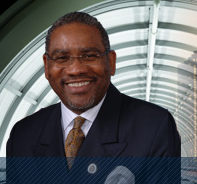 In the wake of the shutdown of the federal government from Jan. 20 to Jan. 22 over the critical Senate vote on immigration and the Mexican border wall, Queens Congressmen Gregory Meeks immediately called for a town hall meeting. It was held Saturday, Jan. 27, at York College in Jamaica, to address and listen to the community on policy decisions we are facing locally and nationally. The college Atrium was full.
Meeks thanked everyone for coming to the "last minute call we decided to send out because I thought that it is tremendously important given the times in which we are currently living, that we have a community dialogue and I am able to bring out to you some of the craziness that's happening in Washington, D.C." He added, "Sometimes you live in historic times, and you don't realize the times in which you are living. It has come to me, as I said to my colleagues in Washington, D.C., that it is more important than ever that we talk to one another."
Other Queens elected officials who participated in the meeting included City Council members Adrienne Adams, Daneek Miller and Rory Lancman; New York State Sen. Leroy Comrie; New York State Assemblywoman Vivian Cook; and the "Godfather of politics in Southeastern Queens," retired City Councilman Archie Spigner.
Meeks expounded on the history of U.S. slavery and the continued race-based policies from President Abraham Lincoln through President Lyndon Johnson and the Civil Rights Act of 1964, to current President Donald Trump's policies.
He further stated, "Now we have the 45th president, Trump, and he seems focused on eliminating everything the 44th president, Obama, did. Instituting a Supreme Court and federal judges that will make legal all the things that we're not for. ... Late last Friday night [Jan. 19], less than two hours before the midnight deadline to keep the federal government open, there was vote on a Continuing Resolution to allow the government to stay open when you don't have an agreement on a full budget. A fight went on and the CR failed to pass with the 60 votes needed in the Senate, which caused a partial shutdown. Shutdowns do have a major impact on millions of Americans.
"Most crucially and critically the CR failed because President 45 failed the presidential leadership test. He chose instead to call people names on Twitter every morning. We wouldn't be where we are if the president had not stopped Deferred Action for Childhood Arrivals, called the Dreamers, four months ago. The other issue is the Children's Health Insurance Program that serves over 44,000 people in Queens. The president is the one who decided to let CHIP expire."
In conclusion, Meeks said, "The issue is to stop the immigration of people of color in the United States of America. The president said it with his s-hole comment and continues to lie about it. ... He is now saying that in order to help the Dreamers, Obama's program to help those 800,000 people who were brought to this country when they were 4, 5 or 6 years old and know nothing else but this country; he says in one tweet we are going to take care of the Dreamers. Then in the next one, he wants to hold us hostage to pay for a wall that he promised somebody in his campaign and he also said Mexico would pay for the wall. This wall that he's talking about is outdated and doesn't work. Anybody will tell you that. I can't vote for it; I will tell you that right now. I cannot allow a vote that would spend close to $50 billion of tax payer money for an ill-advised wall that will separate us and go against who we are as Americans. I think we are going to have to call him on doing the right thing for DACA."