Malcolm X Commemoration Committee hosts annual Dinner Tribute
2/1/2018, 9:10 a.m.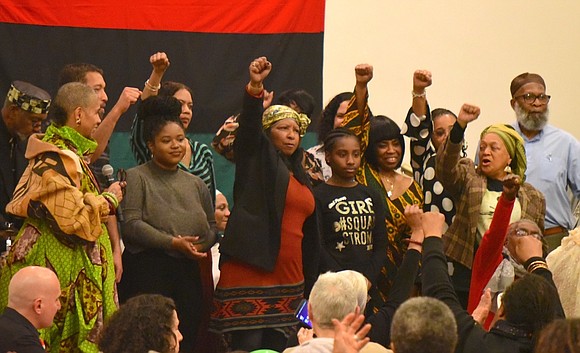 The Malcolm X Commemoration Committee hosted their 22nd annual Families of our Political Prisoners and Prisoners of War Dinner Tribute Saturday, Jan. 27 at the Unitarian Church of All Souls in Manhattan. As always, all proceeds from this event—tickets, raffles and donations—go to commissary accounts of the political prisoners whose families attended the dinner. Honored this year were journalists and artists, "Those who spread the word: our revolutionary griots. ... who have gone out of their way to expose the injustice of U.S.-held political prisoners."
This year's honorees include Nayaba Arinde, Amsterdam News Editor; Basir Mchawi, Education at the Crossroads; Sally O'Brien, Where We Live; artist Sophia Dawson; poet Ngoma Hill; photographer Solwazi Afi Olusola; and George Edward Tait (posthumously).