Convicted serial predator Larry Nassar had many enablers
Jaime Harris | 2/8/2018, 2:29 p.m.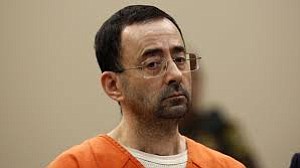 Dr. Lawrence Gerard Nassar is a deplorable human being. Since July when the serial sex offender was sentenced to 60 years in federal prison in agreeing to plead guilty to child pornography charges, he has subsequently been issued sentences of 40 to 175 years in a Michigan state prison last month on a guilty plea of sexual assault of minors and a second 40 to 125 years sentence this past Monday after pleading guilty to three counts of sexual assault.
Nassar's direct victims were a plethora of young girls constituting pre-teens, teenagers and women, 150 of them confirmed to date, for whom he was entrusted to provide medical care as USA Gymnastics national team doctor and an osteopathic physician at Michigan State University, where the predator graduated the school's College of Osteopathic Medicine. Instead, Nassar carried out horrific acts of assault. The victims included Olympians Aly Raisman, Gabby Douglas and Simone Biles.
"Without my knowledge or consent I had engaged in my first sexual experience by kindergarten and had joined an overwhelming statistic of sexual abuse victims," said Kyle Stephens, now a woman, at Nassar's four-day sentence hearing last month. "You used my body for six years for your own sexual gratification. That is unforgivable. I've told counselors your name in hopes that they would have reported you to child protective services twice. I gave a testament to get your medical license revoked."
How was a man as unpardonable and sinister as Nassar allowed to abuse girls as an athletic trainer and doctor dating back to the late 1980s? Because the powers that be at USA gymnastics and Michigan State were complicit. "Reports of sexual misconduct by Dr. Larry Nassar reached at least 14 Michigan State University representatives in the two decades before his arrest, with no fewer than eight women reporting his actions," stated the Detroit News based on an investigation conducted by the publication.
"I was informed that a sports medicine doctor was under investigation," claimed former Michigan State president Lou Ann Simon. "I told people to play it straight up, and I did not receive a copy of the report. That's the truth."
An extensive investigation conducted by ESPN also revealed a culture of sexual misconduct and assault by Michigan State basketball and football players over the past decade. As a result of the Nassar atrocities, Simon resigned late last month. Less than a week later, the university's athletic director Mark Hollis announced his retirement.
Both administrators are either corrupt or morally bankrupt for having one of this nation's most heinous sexual predators in this country's history serving under them. Same for the board of USA Gymnastics, all 18 of them, who were also gravely derelict in their duties before stepping down a little over a week ago.
Anyone of influence, coaches, assistant athletic directors and ancillary medical staff found to have previously possessed knowledge of Nassar's actions, as well as those of the Michigan State football and basketball players, and shielded the criminals, should be summarily fired if they still hold positions at the institution, starting with head basketball coach Tom Izzo and head football coach Mark Dantonio. Hopefully, they will be held liable in imminent civil law suits, a punishment far too lenient given the emotional and physical scars incurred by innocent girls and women.