'Enough is enough!': Emotions run high in ongoing NYCHA saga
CYRIL JOSH BARKER Amsterdam News Staff and NAYABA ARINDE Amsterdam News Editor | 2/8/2018, midnight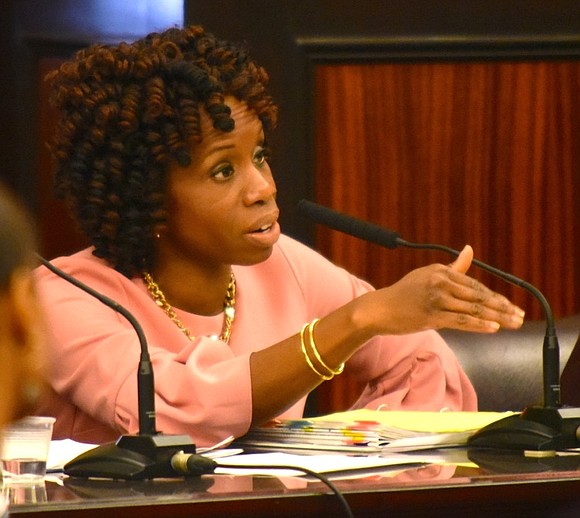 Goose down jackets, doubled-up scarves, trousers-on-top-of-trousers, long-johns, thermals and gloves are what some NYCHA residents are wearing in their freezing apartments with iced-up windows, stone-cold radiators and visible breath in the living rooms.
"Our seniors are dying!" declared Carmen Quinones NYCHA resident and president of Douglas Houses. "How can you sleep?"
It was as if a ticking time bomb over the recent mishaps in NYCHA exploded this week, when lawmakers and the public met at the City Council Joint Oversight & Investigations and Public Housing Committee hearing.
Although elected officials were able to express their frustration to NYCHA Chair Shola Olatoye during the hearing, it was the residents, who were allowed to have their say first, who appeared to make the biggest impact at the hearing.
Quinones attended the hearing with Community Voices Heard. The morning of the hearing, Quinones, who suffers from lupus, said she had no water in her apartment. 
Referred to what was happening in NYCHA has a "health crisis," Quinones wants a resident-led oversight council. During her passionate testimony, she said NYCHA is "incapable" of protecting residents well-being.
As she emphasized the detrimental effects stress has on lupus, Quinones moved the packed City Hall Chamber.
"The NYCHA chair should not only have to report to the City Council, but should be mandated to report to us, the residents, at least quarterly," she said. "This would be a council led by residents that would include leaders from faith, labor and community groups with an investment in public housing." 
NYCHA has its plate full as its saga continues as what many are calling the city's worst landlord.
As winter continues and the ongoing flu epidemic widens, NYCHA residents say conditions remain the same for the 80 percent of NYCHA residents who don't have heat and hot water in their apartments, according to reports
Even with Mayor Bill de Blasio's pledge last week to invest $200 million to replace boilers and upgrade heating systems at 20 NYCHA developments by 2022, residents and the city feel it's just not enough.
The AmNews previously reported that Bronx Borough President Ruben Diaz Jr. is demanding that NYCHA issue an immediate emergency declaration to speed the procurement process for heating and repairs.
"We need to have NYCHA as our top priority," he told the AmNews. "All hands should be on deck. We have buildings crumbling and boilers that haven't been replaced in 50 years. If residents pay rent, they deserve heat."
Last week, more than 50 elected officials from all over the five boroughs joined Diaz's call, including Brooklyn Borough President Eric Adams, City Council Member Laurie Cumbo, State Sen. Brian Benjamin, Assemblymember Michael Blake and Congressman Joe Crowley. All signed the letter to NYCHA Chair and CEO Shola Olatoye.
"A declaration of emergency is a common sense act NYCHA can take to streamline the procurement process, and it is heartening to see that so many of my colleagues from across the five boroughs agree," Diaz said. "Clearly, the signatories on this letter understand the urgency to act immediately on behalf of the more than 400,000 tenants who call NYCHA home."