PBS documentary profiles African-American business tycoon
NADINE MATTHEWS | 2/8/2018, 4:02 p.m.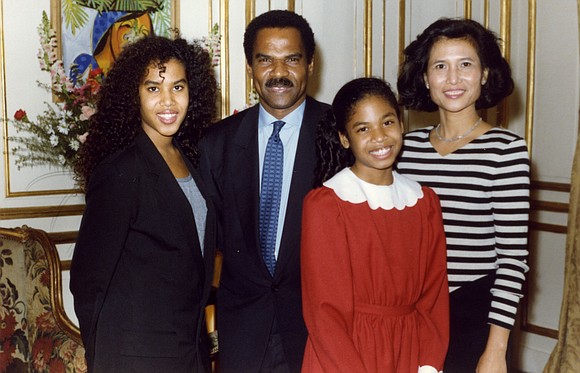 It was the business deal heard round the world. Nov. 30, 1987, African-American businessman Reginald F. Lewis purchased international food conglomerate Beatrice Companies for $985 million in the largest ever offshore leveraged buyout. The business world was abuzz. Combined with his earlier stunning accomplishment, acquiring and selling the 113-year-old McCall Pattern Company at a profit of more than $50 million, this acquisition made his company TLC the largest and most profitable company owned by an African-American. Lewis was the first African-American to close an overseas billion dollar leveraged buyout deal. Even by today's standards those deals would have been remarkable. In the 1980s, as the son of a Baltimore postal worker and a teacher, his accomplishments were seen as extraordinary.
Sunday, Feb. 18, at 7:30 p.m., PBS will premiere "Pioneers: Reginald F. Lewis and the Making of a Billion Dollar Empire." The program chronicles the life and legacy of business pioneer, philanthropist and titan Lewis. A Harvard Law School graduate, Lewis rose to prominence as a lawyer, financier and leader of the global food company TLC Beatrice International. He acquired an unprecedented global conglomerate of 64 companies in 31 countries, and paved the way for future entrepreneurs and Black leaders through his life's work until his untimely death in 1993 at age 50. When he died, he was one of the 400 richest men in America, according to Forbes magazine.
Lewis was a lawyer before becoming a businessman. First working for white shoe New York City law firm Paul, Weiss, Rifkind, Wharton & Garrison, and then opening his own firm, Lewis and Clarkson, one of the first Black law firms on Wall Street.
The program features appearances by his daughters Christina Lewis-Halpern and Leslie Lewis and his wife Loida; renowned Wall Street financier who facilitated the Beatrice deal, Mike Milken; longtime head of American Express, Kenneth Chenault; activist Jesse Jackson; and Lewis' mother, brother and others.
Chenault said, "There is no doubt that Reginald Lewis' success paved the way for me and many others, and I think that really is the test in demonstration of real leadership."
The documentary makes clear that Lewis was driven since his youth. He delivered newspapers starting around the age of 9, managing to save 90 percent of what he earned. According to Fortune magazine, young Lewis kept his earnings in a tin can labeled, "Reggie's Hidden Treasure." He also drove a hard bargain at an early age. In the PBS documentary, his mother recounts tough negotiations with him when she asked for part of his pay after delivering the papers for him for two weeks while he was away at camp. A gifted and disciplined athlete, he was captain of the football, baseball and basketball teams at Baltimore's Dunbar High School, an all-Black high school with an all-Black faculty known for its emphasis on academic excellence. It is clear that even all these years after his death, he remains dear to family and friends. Faces light up or eyes well with tears as they recall the kind of man he was.