World record for Miller-Uibo at Millrose Games
Lois Elfman | 2/8/2018, 2:26 p.m.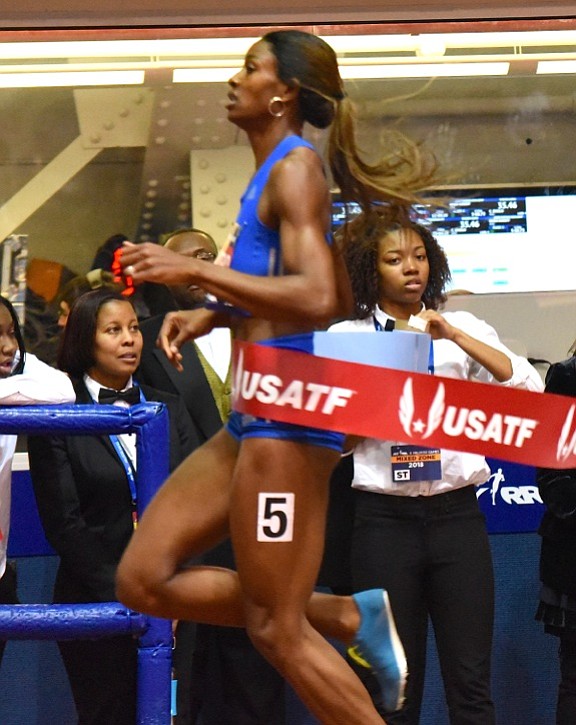 As expected, the competition was intense at the 111th Millrose Games, held last Saturday at The Armory in Washington Heights. Defending champion in the women's 300 meters Shaunae Miller-Uibo went out fast, sustained speed, beat the field by nearly two seconds and earned an indoor world record. This race was her third 300-meter race of indoor season.
Miller-Uibo was exhausted after the race and only able to answer a few brief questions. She said she wasn't running for a world record, but was aware of it and certainly pleased to achieve it.
There are world indoor championships this March in Birmingham, England, so athletes are trying to get their indoor skills strong.
Murielle Ahouré of Ivory Coast won her second Millrose 60-meters (she previously won in 2015). "It's always a great atmosphere," said Ahouré. "If I'm running indoors, I definitely come here. It's a great track and everyone here is like a super track fan. It's exciting to be recognized."
With Nigeria set to make its Olympic debut, Ahouré was asked if she'd consider joining fellow track athletes in the bobsled. "It's too scary for me," she said, but she does know the driver, Seun Adigun. She continued, "I'm so excited and so proud of what they're doing for all of Africa."
Millrose always showcases a wonderful blend of youth, college and professional track and field athletes. The 4x200 relay team from Bullis School in Potomac, Md., showed speed and skill to win. "We're basically pushing each other to be great," said Ashley Seymour.
They also did their best to capture the glamour of track. "When I wear lashes, I feel really strong," said Leah Phillips. "They're long and pretty and they flow."
This was the first time in the Armory for hurdler Dawn Harper Nelson, Olympic gold and silver medalist. When she came to warm up the night before, she was told to expect an exciting event. "I was told the atmosphere here is so electric, and I was not let down," said Harper Nelson, who finished sixth. "The fans scream from beginning to end."
Gabrielle Wilkinson from Pennsylvania took the high school girls' mile, an event that has spotlighted runners who've gone onto great success. "One day, I want to be able to go to the NCAAs and the Olympics," said Wilkinson. "This is a reminder that when I put my mind to it, anything is possible."