Black menus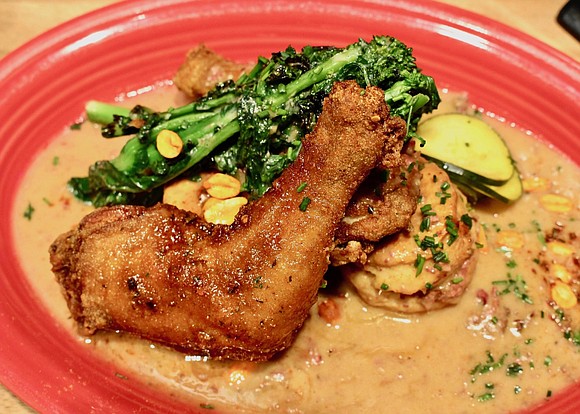 Yes, we are all highly anticipating the release of "Black Panther" in Black History Month! I am ready to scream and holler and, thanks to Harlem Shake, eat! From the creative food minds of the burger eatery comes a limited combo, on sale from Feb. 15 through Feb. 28.
The Harlem Shake's Black Panther Wacombo Meal features a patty melt on specialty black rye bread, black (purple) potato fries and either Smoke & Dagger Porter beer or a chocolate ice cream, cola, coconut float. The combo will be $16.18 for lunch and $20.18 for dinner. Plus, the first 25 customers will receive a special edition copy of "Black Panther" comic book.
Red Rooster is two weeks into their culinary celebration of the deep roots and ancestry from pre-Civil War era. Chef Ed Brumfield pays tribute this Black History Month with four of his favorite dishes from the era each week.
Week one was cornbread porridge, chicken feet stew and mustard greens. Week two was Hoppin' John, braised neck bones, candy stripe beets and lemon. Starting today, the special dish is smothered yard bird, biscuits, collard greens and spiced butter. The last week will be huckleberry pie, vanilla ice cream and apple gastrique.
Stay Black!