Legendary reporter of the Pittsburgh Courier, Frank E. Bolden
Herb Boyd | 2/15/2018, 2 p.m.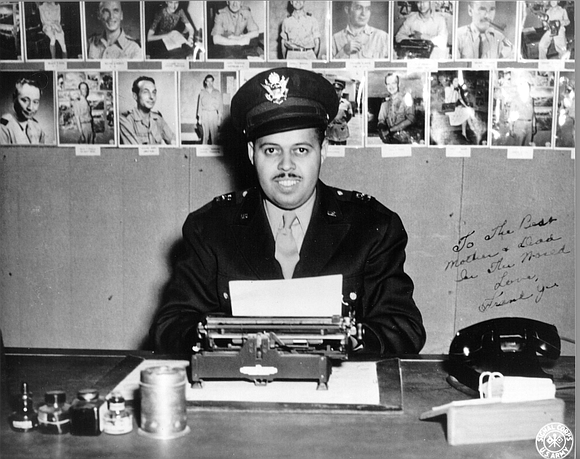 Next time you're in Pittsburgh, set aside some time to visit the Senator John Heinz History Center. During a recent presentation there for the Smithsonian Channel (the center is connected with the Smithsonian), I toured all six floors of this splendid collection of Americana, including a gallery where an African-American exhibit seduced me. Among the things on display was a tenor saxophone that belonged to the late Stanley Turrentine, a Tussaud-like wax semblance of the great pianist/composer Mary Lou Williams at the piano and a nearby section devoted to the illustrious Tuskegee Airmen.
Across from the Tuskegee Airmen was a large wax statue of reporter Frank Bolden, dressed in a military uniform and facing a typewriter, symbolizing his time as a war correspondent. Later at the function in the center, I was introduced to Nancy Bolden, Frank's widow, and she confirmed and embellished the information about her husband accompanying the tribute to him.
"Frank died in 2003," Nancy Bolden said after being asked about her husband, "and naturally I'm quite proud of what the museum has done here to honor him, because he represents a number of the reporters at the Pittsburgh Courier and what they have done to preserve our historical and cultural legacy."
A good portion of Bolden's life and legacy resonates in Mark Whitaker's book "Smoketown," and Nancy Bolden applauded his work. "He was here last week at the center, though I had met him before when he was working on the book about his parents who lived here," she said. "I think he did a good job capturing some of the people who were important in the city's history."
And Whitaker was wise to give hundreds of words to Bolden's place in this history because he was, according to his widow and other residents, a veritable walking, talking encyclopedia of Pittsburgh's history, Black and white.
Frank E. Bolden Jr. was born Dec. 24, 1912, in Washington, Pa. His father was the city's first African-American mail carrier. Bolden, too, achieved a first as a Black clarinetist in the University of Pittsburgh's marching band. He graduated from the university in 1934 with a Bachelor of Science degree. While at the school, he also began as a stringer at the Courier.
But, at the time, journalism was not his ambition. His dream was to become a doctor, but despite his good grades he was rejected by the college's medical school because of his race. Race was also the reason he was turned down for a teaching position in the public school system.
He was advised to go down South if he wanted to teach, but, as he later told a reporter, "I was not going South behind the Cotton Curtain."
Instead, he signed on at the Courier as an assignment reporter.
Mainly his beat was on Wylie Avenue, one of the Black community's major thoroughfares. Assigning him to this street, with its vibrant nightclubs, bars and other good and bad elements of a thriving community, was throwing Bolden, like Br'er Rabbit, into the briar patch.