Racism rears its ugly head at NYC schools
By CYRIL JOSH BARKER Amsterdam News Staff Additional reporting by OLAYEMI ODESANYA Special to the AmNews | 2/15/2018, 9:40 a.m.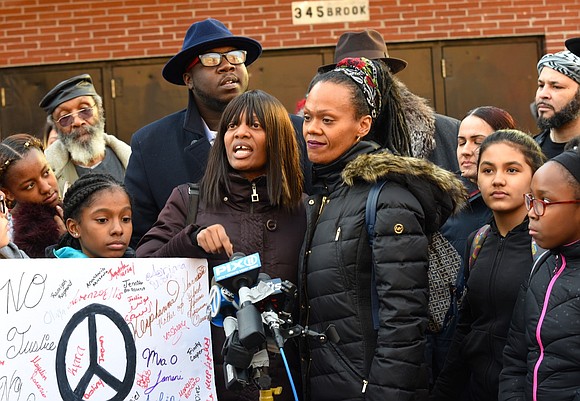 In her LinkedIn profile, Principal Patricia Catania of Intermediate School 224 in the Bronx describes herself as a "lifelong educator and a lifelong learner" with more than 25 years of experience in education. However, she's learning a valuable lesson this week in Black Studies.
Catania is at the center of the latest public school controversy that has students, parents and teachers outraged and asking for her removal. Catania, who is white, allegedly ordered a teacher not to teach Black history to students.
New York City schools continue reeling from acts of blatant racism against students of color at the hands of white teachers. The latest string of racial incidents began earlier in the month, when a white teacher at Bronx middle school stepped on the backs of Black students during lesson on slavery, according to reports.
"You see how it was to be a slave?" said Middle School 118 teacher Patricia Cummings. "How does it feel? See how it feels to be a slave?"
Natasha Capers, coordinator NYC Coalition for Educational Justice, told the AmNews, that aside from the initial assault on the students, parents were upset that the Bronx teachers was initially only suspended for a couple of days and was allowed to work at the school before she was reassigned. "Just thinking about how these kids have to continue to interact with her after she disrespected them like that is beyond words," said Capers. "Some of the kids really adored Cummings but were just disappointed of how much of a racist she was. It's even worse when you realize what trauma the kids are now in. Some may have never experienced racism or even realize how problematic what Cummings did. What she did to the children was horrible and we need to have talks our children when they are facing racism and how to deal with it."
Capers, an activist mother of two said that she believes Mayor de Blasio is responsible for this situation because of how he failed to deal with prior racist and bias situations. "Every time we tried to contact the mayor, our issues are either dismissed or ignored," she said.
Capers organized a rally last week in front of City Hall. She said, "The fact that Cummings had the notion to disrespect these children and is actually getting away with this should not be OK. We shall continue to fight for our children and for the next generations to come."
A rally and news conference was held outside of I.S. 224 against Catania Monday, led by National Action Network Crisis Manager Kevin McCall. He's calling for changes for public schools to teach more Black history.
"We are here today to send notice to the Department of Education to let them know that we will not tolerates you disrespecting our history," said McCall. "We are sending a clear message to Ms. Catania. We are calling for you to be removed immediately."
English teacher Mercedes Liriano-Clark previously reported that Catania told her to stop teaching Black history during a lesson about the Harlem Renaissance.