Racism rears its ugly head at NYC schools
By CYRIL JOSH BARKER Amsterdam News Staff Additional reporting by OLAYEMI ODESANYA Special to the AmNews | 2/15/2018, 9:40 a.m.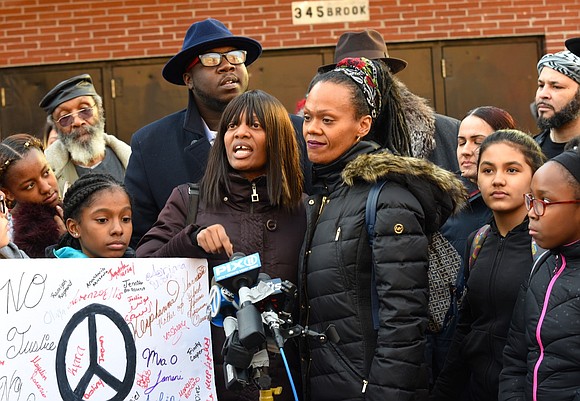 Liriano-Clark stated, "She asked, 'Why are your students working on Black history project?' and I said 'Because it's Black History Month. She said, 'You are the ELA teacher. You don't teach social studies. You don't teach humanities anymore.' I said, 'Black history is in every subject."
Liriano-Clark said the students protested and started a petition and were "badgered and questioned."
"Black history will continue at MS 224 every day," she said.
Reports indicate that a day after the rally, Catania confiscated a student's Black history poster with no explanation. Catania later returned the poster to the student. Bronx superintendent Richard Cintron reportedly went to the school Wednesday to investigate the matter.
In a statement, the DOE said that they encourage students to learn about Black history in school.
"Students are currently working on projects related to Black History Month that will be presented and highlighted at the end of February," a DOE representative said. "All schools must provide a supportive and inclusive learning environment, and there's no place for discrimination or bias of any kind in our schools."
The city also learned about 17-year-old Malcolm Xavier Combs, an honor student at Christ the King High School, who became another victim of discrimination and embarrassment when school officials denied his request to use the name "Malcolm X" on the back of his senior sweater.
Combs was pulled out of an AP English class by school official Veronica Arbitello, who told him that the civil rights activist was "a person you don't want to be associated with." When he told officials that was his name, Combs said during an interview with the AmNews, Arbitello and her husband, who is also a staff member at the school, laughed at him.
"The assistant principal said, 'This is the new Malcolm X' and they both laughed," Combs said. "I was shocked that somebody would say something like that. They just laughed at me by putting down my name. I was really disappointed because thought it would be cool to have that name on the sweater because I really like my name."
Combs mother, Mychelle, said she and her husband met with the school and that as of Tuesday, they had not changed their position. She said her son was named after the civil rights leader and that he was born in Brooklyn on Malcolm X Boulevard.
"They told us that the name was to controversial and offensive to the other students," she said. "I'm offended that they would even think I would name my son something that's offensive. The truth only have one version and they come out with many. How is it that he's offensive and he's controversial and then you tell reporters you taught Malcolm X over the last 20 years and he's in the curriculum?"
Malcolm said that he wants to see his high school make African-American Studies and elective. He said he wants to go into video game design and attend college at New York Institute of Technology or the historically-Black Oakwood University in Alabama. He said that despite what happened at school, his large support system is keeping his spirits up.