Spy women's styles unfold on New York Fashion Week runway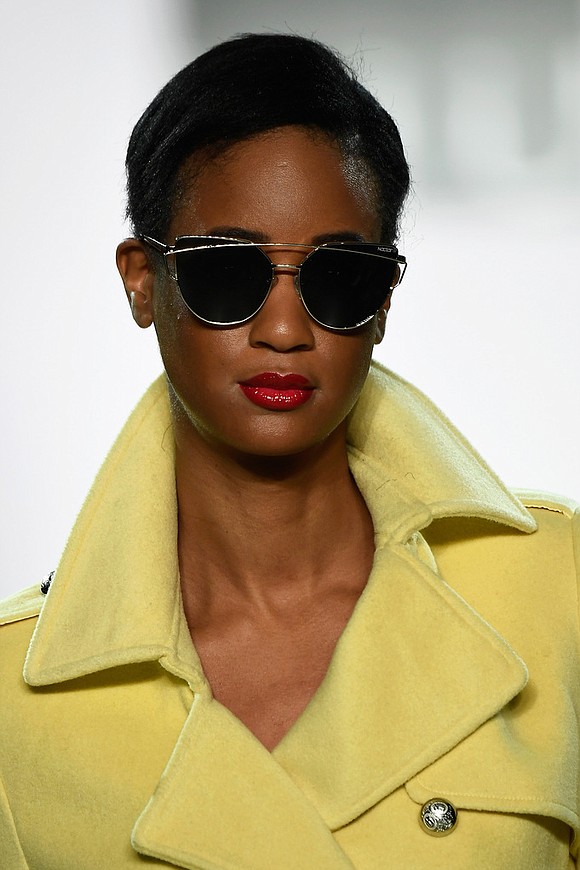 For fall/winter '18, Dan Liu, a women's ready-to-wear designer, delivered a show-stopping collection to a well-attended audience of fashion insiders in a gallery space at Spring Studios in New York City. His fans are feminine yet sophisticated. When the lights dimmed and the spotlight lit the catwalk, all eyes were on the pale pink trenchcoat ensemble with black leather piping that opened the show. The stylish sunglasses by Nectar and the pulled-back hair added to the drama.
This season, Liu's Fashion Week show was inspired by the strong, independent and dangerous woman—a spy. With the show's theme, "The Spy Who Loved Me," the designer's looks were shown on mysterious-looking models who sometimes appeared in Liu's branded headscarves. A piano rendition of the infamous soundtrack from the James Bond film accompanied the runway presentation. "It's not about James Bond, though, it is about the woman," said the designer backstage.
Overall, the collection redefined the retro styles of the 1960s and 1970s, with simple yet unique colors and patterns. "The Spy Who Loved Me," both the novel and the film, were popular during the same time period. In the show, the narrative and clothes described the evolution of women in society who are more independent and strong.
Classic silhouettes such as the trench coats, shift dresses and caplets were displayed. For in-the-now looks, a line of skirts were paired with shiny, modern bomber jackets that were embellished with impressive buttons. Because of the season, the prominent color in the line was black. However, there were styles in yellow, red and pink that enhanced the retro designs. "I want folks to know that color can make a woman feel more beautiful, no matter the season," expressed Liu. He hopes to bring the blooming nature of spring into winter months through his fashions.
For fall/winter '18, Liu's looks were layered. There were tea-length coats and detailed cocktail dresses. He used eco-friendly materials to convey his message while cherishing the planet. Intricate lace, time-honored plaid and houndstooth motifs were also represented in the collection.
Liu is an award-winning designer of both Chinese and Japanese heritage. In his collections, there is always an emphasis on beauty and practicality. Good show!