Talking SCHOP! Harlem's own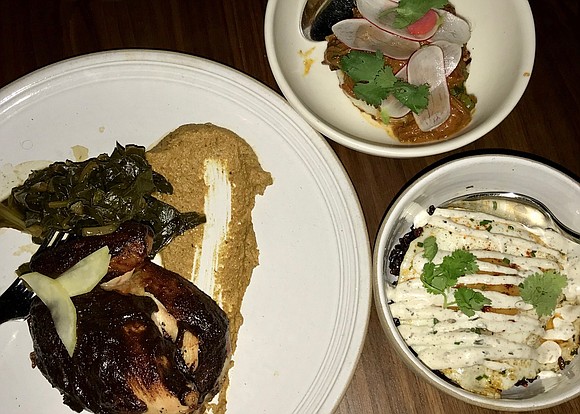 I have known chef JJ Johnson for more than 10 years since he was the first chef at Nectar Wine Bar, an annex gathering spot to the then Harlem Vintage (not Vintage Harlem). Chef JJ wowed me with his palette and skills, and he has not stopped. The former executive chef of the original Renaissance of Harlem's Cecil and Minton's continues to press on with new opportunities.
Last year (you know…two months ago), chef JJ had a very successful residency at Chefs Club in SoHo. I kept hearing and reading great things about the food and experience. So much so, what was to be a month residency was extended through the end of the year.
I was resigned to missing chef JJ at Chefs Club, but thank heavens for my Harlem EatUp! colleague and friend, Dawn, who made a reservation for us on the second to last day of 2017. It would not be the big New Year's Eve blowout the next night. However, it did not matter the night—the experience was bomb!
Dawn and I rolled into Chefs Club for our reservation passing the now infamous pink "JJ" neon sign. In route to our table, passing the private room, I noticed a couple of my gorgeously dressed friends having their holiday party that night. This obviously has been the place during chef JJ's tenure. Now I was ready for whatever he was laying down.
Of course, Dawn and I started with a couple of cocktails. Mine an herbaceous gin citrus concoction and Dawn a bay leaf tequila creation. Both were on point and set us straight to ordering as I was jamming to my personal vortex of '90s hip-hop.
Chef JJ continues his culinary prospective with an Afro-Asian-American menu. I noticed my Cecil faves such as apple curry beef wontons and collard salad. No brainers. We also threw down on this mezze roti platter of tamarind eggplant jam, hummus, pickled onions and a fried egg. This was my favorite of the night…oh, and chef's gift of tuna tartare on a shiso leaf. He got a lot of love for this dish.
For our entrée course, Dawn and I shared tamarind chicken with braised greens and another chef gift of crispy rice. That rice was the bee's knees. Texture, flavor and presentation were on point.
We passed on dessert and opted for chatting it up with the chef while he was pushing out plates for the private room. We could see the pride on his face for the work he did at Chefs Club.
I am looking forward to chef JJ's next endeavors, including the current release of his and chef Alexander Small's cookbook, "Between Harlem and Heaven." I know there is more to come.
Congratulations chef JJ—I continue to watch and be amazed!
Happy eating and thanks for reading!
Kysha Harris is a food writer and editor, culinary producer, consultant and owner of SCHOP!, a personalized food service in NYC for more than 15 years. Follow her on Twitter and Instagram, @SCHOPgirl, on Facebook, /SCHOPnyc, and her blog, www.talkingSCHOP.wordpress.com. Questions? Comments? Requests? Feedback? Invitations! Email AmNewsFOOD at AmNewsFOOD@SCHOPnyc.com. Follow us on Instagram, Twitter and Facebook @NYAmNewsFOOD and tag us with #SoAmNewsFOOD with your food finds!