BroadwayCon 2018: Curtain up on fabulous!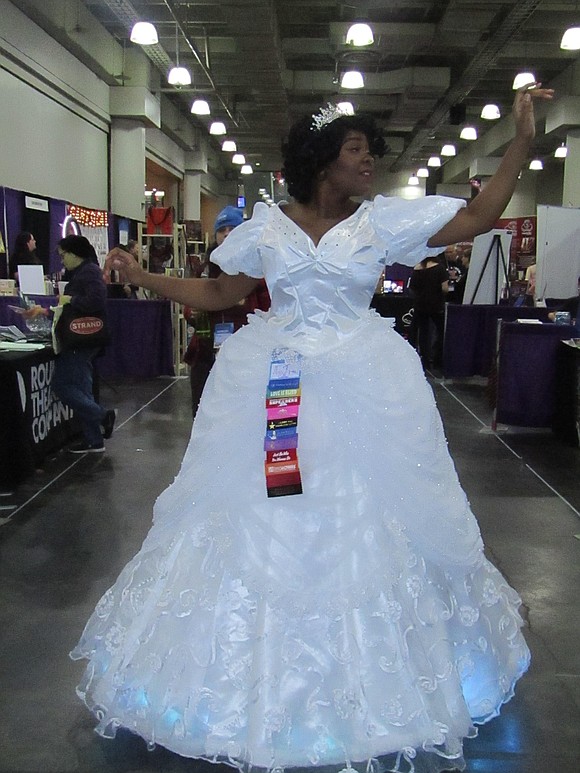 BroadwayCon 2018 was a total blast at the Jacob Javits Center Jan. 26 to Jan. 28. Everything that you love about Broadway was there, from actors to panel discussions about the industry, to opportunities to sing in public as the music from popular Broadway shows played in the background. You could take photos at the Audience Rewards booth, or take a picture next to a cardboard cutout of Lin Manuel Miranda, especially with "In the Heights" having its 10th anniversary with a ceremony on Friday, Jan. 26. It was a theater lover's dream to walk into the panel discussions about acting, singing or dancing or participate in acting, singing or dancing workshops with the industry's best. There were booths to get headshots done, buy dolls depicting characters from Broadway shows or buy hats, buttons and shirts galore. There were booths for "Dear Evan Hanson," "The Phantom of the Opera" and so many Broadway shows, along with authentic costumes from the productions.
Everywhere you looked you could spot people in dazzling, detailed costumes from Broadway shows. Some people were actors, but others were simply theater-lovers. There were Black Cinderellas, people in full "CATS" costumes, a guy in red knee-high "Kinky Boots," "The Heathers" and numerous patrons in wonderful costumes.
This event was the third annual BroadwayCon, and what I found interesting about it is the level of energy and pure instant friendship that theater-lovers shared, strangers or not. BroadwayCon had a tribute to the unsung women of Broadway, and a person one of the panel rooms was named after is Vinnette Carroll, the first Black woman to direct on Broadway.
BroadwayCon was packed with outstanding, thought-provoking panels that really touched on issues that are happening in theater today and not only on the stage but also in the way that theater is covered in the media. A panel called "Being a Critic of Color" was moderated by Jose Solis and featured fellow theater critics of color, Wei-Huan Chen, Naveen Kumar, Kelundra Smith, Karen d'Souza and Jan Simpson. These critics write for numerous outlets, both in print or online. These critics who hailed from New York, Atlanta and other places talked about how it can sometimes be limiting to cover theater. If you are Asian, Hispanic or from another ethnic group, you are expected to only cover productions with people of your ethnic background.
When asked the role of a theater critic, the answers were quite interesting. Smith said, "By my going to the show, you are going to be documented as having existed at this time." Simpson remarked, "Theater critics can see a lot of shows. Being able to be a sounding board is important. We play a role for the people who are creating art."
This critics of color panel was a first.
Another first at BroadwayCon, but in line with the idea of spotlighting females this year, was a panel created by me called "Theater Critiquing: A Women's Touch." My fellow panel members included Martha Wade Steketee, Nicole Serratore and Elysa Gardner, each person a critic for several outlets. When people think of quoting a critic for a show they normally quote a white male critic. This panel was assembled to show that female theater critics have important voices and should be acknowledged, respected and appreciated. The idea behind the panel was to let the audience know why we do what we do, what our process is in critiquing a show and how each of us has a unique approach to our jobs, but we all a great love and respect for theater of all types.