An interview with Douriean, Wakanda's metalsmith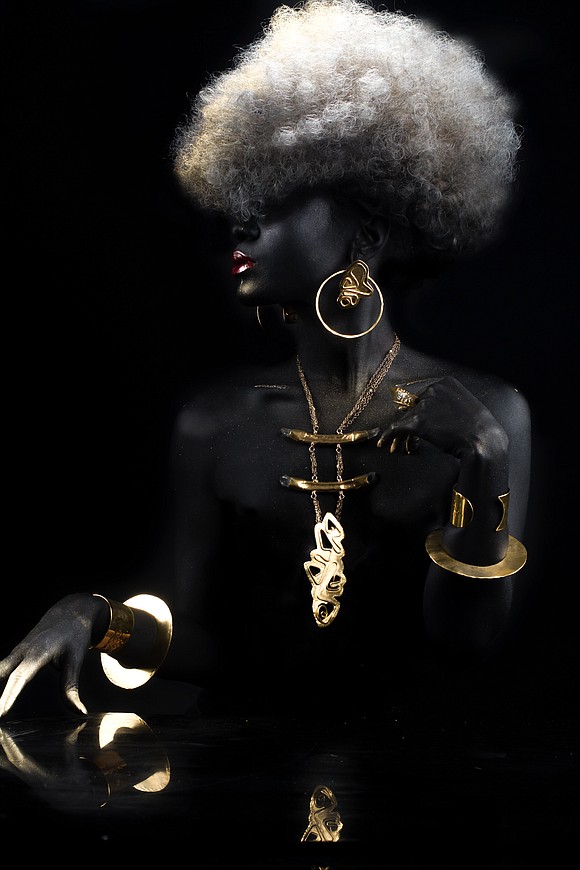 "Black Panther" costume designer Ruth E. Carter found Douriean. As the costume designer on the groundbreaking "Black Panther" movie, directed by Ryan Coogler, Carter's already legendary status might reach another level altogether. Her designs are currently bringing true fire, being worn in the first Marvel superhero movie with authentic "Black star power," starring Chadwick Boseman, Lupita Nyong'o, Michael B. Jordan, Forest Whitaker, Angela Bassett, Sterling K. Brown and Letitia Wright.
The imagery of Wakanda is everywhere, rich and regal with strong nods to African tribes such as the Maasai, while adding in a futuristic look. But it's the jewelry and the breastplates, the pieces of armor worn by the Dora Milaje inside this mystical place, that have been garnering the most attention and getting the biggest questions: Who made this tremendous work? Where can I buy it?
The answer is Douriean. Douriean is an African-American woman whose artistry was well-known to Carter, who hired her to work on "Roots." Carter understood that if anyone could translate her vision, it would be Douriean, and that work has earned the young woman a unique spot in the Costumers Union, Local 705, under the specialty/costumer/jewelry category.  
Here is an edited interview with Douriean.
AmNews: Describe yourself. 
Douriean: Before any other label, before being a designer, a jewelry maker or metalsmith, I am an artist. A creator.
AmNews: No doubt one of the reasons Academy Award winner Ruth E. Carter engaged your services was to bring to life the jewelry and breastplates work inside the "Black Panther" world. How did that happen?
Douriean:  I feel that it was destiny, quite honestly. I worked for Ruth E. Carter on a previous project, "Roots."  After working on that, I realized the potential of where my work could go in the film industry and for a while, I was having dreams of very ornate dresses made of shells, crystals, beads and feathers. I shared with her that I was no longer interested in creating ready-to-wear work and wanted to create large wearable art pieces. I shared with her the dream I had and sketched out.  Once she saw them, she told me she had something in mind for me. At the time I had no idea what the project was going to be. 
AmNews: So you were able to help bring Ruth's vision of the "ancient and the futuristic" into pieces that you made by hand?
Douriean: Ruth liked what I consider to be an ancient yet futuristic aesthetic, and with her understanding of my skill set, creativity, innovation and work ethic, she saw it fit for me to take on such a critical role for this project.
AmNews: To be clear, these are handcrafted pieces, right? The pieces worn by the Dora Milaje armor is handmade?
Douriean: Yes. The Dora Milaje armor that they are wearing is handcrafted metal pieces. During my process of creating these pieces, I thought of every piece as something that a Wakandan jeweler would make. 
AmNews:  Almost forgot. I hear a lot of hoopla about three dope Black Panther caps. Did you create those arresting designs?  
Douriean: Yes! There are actually three hats. Two are inspired by the Black Panther mask with Wakandan writing on it. Then there is a Killmonger hat. The third is my design and I wanted to create a quality, unique piece that could be appreciated by the comic book fan and also the fans of this historical moment. The scarification on Killmonger's chest was something that needed to be incorporated into the design of the mask to lend a sculptural aesthetic to the work to reflect the creativity and culture of Wakanda. Because of working with Ruth E. Carter,  because of this project, "Black Panther,"  I am the first jeweler in the Costumers Union, Local 705 in Los Angeles listed as a specialty costumer/jeweler. This is an absolutely amazing opportunity for costume designers whose vision calls for unique and specialty jewelry for their projects. 
"Black Panther" is now playing.