Washington Women in Jazz celebrates women artists in March
JORDANNAH ELIZABETH | 2/16/2018, 2:36 p.m.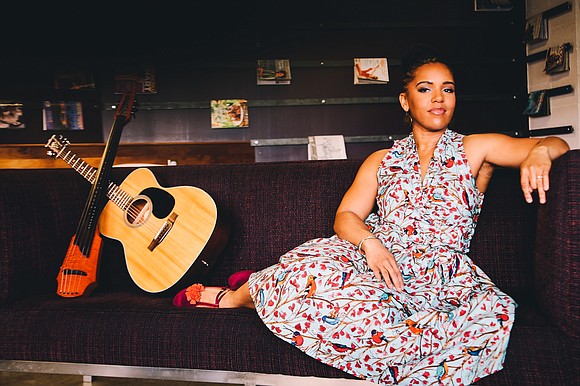 If you're looking for a great jazz festival right in your back door, the Washington Women in Jazz Festival will take place all over the Washington, D.C. area from March 10 to March 18. With the recent conversations at Jazz Congress, NYC Winter Jazzfest and the Jazz Journalist Association's Jazz Media Summit surrounding gender in the jazz music community, attending D.C.'s Washington Women in Jazz Festival will allow jazz lovers to turn what they learned from the panel's conversations into an active pursuit of support for women and female-identified musicians who perform jazz music.
The gender gap in jazz has only been recognized by jazz's greatest musicians and thinkers, but this festival allows women to perform in an inclusive and celebratory space. This year brings Black women musicians such as cellist Shana Tucker and up and coming musicians such as saxophonist Sarah Hughes in a citywide lineup that will invigorate D.C.'s jazz community and attract audiences from all over the world.
Washington Women in Jazz is an important benchmark in the changing tides of jazz, and hopefully, it is a manifestation of what is to come in the future of jazz. Women-based jazz fests are portals for more national and international jazz fests to find women with talent and include them in the male-dominated festivals with grace and openness to women who have dedicated their lives to their musical crafts.
Take a look at the full Women in Jazz Festival lineup. For more information, visit the website http://www.washingtonwomeninjazz.com/
March 10
noon-3:30 p.m.
Young Artist Showcase and Jam Session
Levine at THEARC
6 p.m.- 8 p.m.
Shannon Gunn's Tribute to Women Composers + Visuals
Smithsonian American Art Museum: Nan Tucker McEvoy Auditorium
March 11
6:30 p.m.- 9:30 p.m.
Women in Jazz Festival Kickoff at the DC Jazz Jam
The Brixton
March 12
Washington Women in Jazz Panel Discussions
(TBA)
March 13
6:30 p.m.-8:30 p.m.
Washington Women in Jazz featuring bassist Judith Ferstl (Vienna)
Austrian Cultural Forum Washington/Embassy of Austria
March 14
7:30 p.m.-9:30 p.m.
Shana Tucker
Hill Center Concert Series
March 15
Women of the Washington Jazz Arts Institute
March 16
6 p.m.-9 p.m.
Leigh Pilzer and the Washington Women in Jazz All-Stars
Westminster
1:15 p.m.
Amy K Bormet's Ephemera with Isabel Escalante
Georgetown University Friday Music Series
March 17
1 p.m.-3 p.m.
Improvisation Workshop with Anna Webber and Angela Morris
THEARC
4 p.m.
Bohemian Caverns Jazz Orchestra with Anna Webber and Angela Morris
THEARC
March 18
Sarah Hughes Album Release
Rhizome