Celebrating 'Soundtrack 63' at the Apollo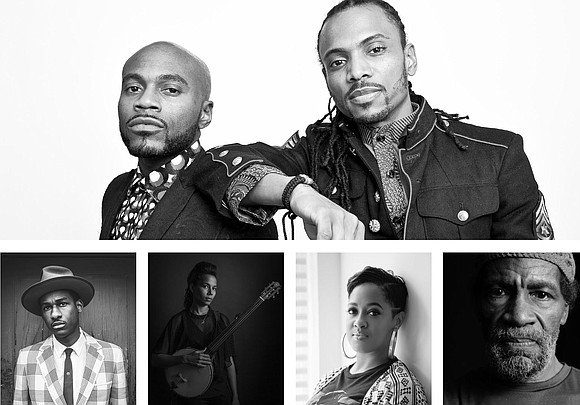 If I didn't know any better, I'd begin to think that maybe, just maybe, a segment of society has been harboring deep resentment over the notion of an entity called Black History Month. Even if they did, they'd keep those sentiments buried. They don't feel emboldened enough to express them overtly. That can't be so. Right? These recent reports are undoubtedly fake news. Trump hipped us to that game. But if some did feel a way—what? We don't care! We don't need a designated month. We have in place some institutions that keep us en vogue 24/7, 365, February to February. Speaking from one of those beacons, Sister Kamilah Forbes, executive producer of the Apollo Theater, offered an amen to that with, "That's what we do here at the Apollo Theater all year-round. We celebrate Black and promote Black excellence."
As would be expected, Black History Month at the Apollo is active, but this Saturday, Feb. 24, is the feather in the fedora, with the Apollo debut of "Soundtrack 63." In a nutshell, "Soundtrack 63" is a genre-defining, live musical documentary experience that takes you on a journey through milestone events in African-American history, with a spotlight on the Civil Rights Movement.
Using compelling images and historical video footage, the show explores how Black music has served as a soundtrack to the African-American experience, but for Forbes, the show strikes that balance of historical and contemporary. "It's great to be able to honor the legacy of the Apollo, but it's just as gratifying to be able to bring really great programming for the Apollo today," she said. "I've seen the growth of the project, and I'm excited to have it presented here."
The Soul Science Lab Collective of Creative Director Chen Lo and Musical Director Asante Amin are just as enthused. Lo recalled, "It began for us at the Irondale Theatre in Brooklyn, five years ago this month (February) during a snowstorm. We were worried that no one would show up. Not only did people come, we sold out for two nights."
The show has continued to grow and evolve, and now with the climate of the country combined with the platform provided Saturday, it has a chance to be solidified in history. Armed with an 18-piece orchestra, this concert event includes a host of dynamic performances by Grammy Award winner Rhiannon Giddens, Vintage Soul vocalist Leon Bridges and one of hip-hop's finest, Rapsody. Also, just got word that Abiodun Oyewole of the legendary Last Poets will be touching the mic. More important than the stellar line-up of performers for the Soul Science Lab is the actual purpose of why this project exists.
"As artist and educators, we've both done things that lent to this moment," said Amin. "We had a front row seat into the mind state of students and how they were feeling. They no longer had a connection to this very important history or how it impacts their lives today. We needed to bridge the gap and create something that kids could get to see themselves in the continuum of history."

Lo added, "Sometimes we as adults and elders have a tendency to let history become an artifact, and we forget that we're living the manifestation of those events right now."
To see the story retold and relived might very well be the vehicle to reconnect and revive! Can't be mad at that.
Forbes brings it home with, "We can read speeches, we can read policy, we can read activist manifestos, but when I feed the lyrics of 'Say It Loud (I'm Black and I'm Proud),' and that bass line kicks in, there's certain emotions elicited. Protest, connectivity, collectivity, something! That's the power of music and that's what 'Soundtrack 63' illuminates."
Tickets for "Soundtrack 63" start at $28.50 and are available at the Apollo Theater Box Office, 253 W. 125th St. New York, N.Y. Call 212-531-5305 or Ticketmaster at 1-800-745-3000. Visit www.ticketmaster.com.
Over and out. Holla next week. Til then, enjoy the nightlife.