Don Hogan Charles let his ubiquitous camera speak for him
Herb Boyd | 1/4/2018, 7:53 p.m.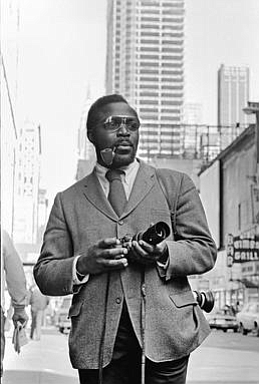 Although photographer Don Hogan Charles kept his personal life private, his camera was open and revealed many private and historic moments about American history and personalities. One of his most iconic photos is of Malcolm X, wielding a rifle and peering from a window in his home in East Elmhurst. Whereas the photo often appeared in publications, it was not exactly known who the photographer is. Many thought it was taken by Robert Haggins, Malcolm's personal photographer.
Some portions of Charles's private life surfaced recently when he died Dec. 15 in East Harlem. He was 79. In his obituary we learned that he was the first African-American photographer hired by The New York Times. He was credited with hundreds of photos at The Times, including many of those turbulent moments during the Civil Rights Movement.
Charles' camera seemed ever present, roaming across the spectrum of Black history and culture. An example is his photo of Malcolm holding the rifle he took for Ebony magazine in 1964, and four years later, his photograph of a grieving Coretta Scott King at her husband's funeral.
What we do know of his significant odyssey is that he was born Daniel James Charles in New York City Sept. 9, 1938. His parents, James Charles and the former Elizabeth Ann Hogan, were immigrants from the Caribbean. Before entering and then dropping out of City College, Charles was a graduate of George Washington High School. Rather than pursuing a career in engineering, which was his major at City College, he turned his attention to photography, and for many years was a freelancer before being hired by The Times in 1964.
Like his predecessors James Van Der Zee, Austin Hansen and Gordon Parks, Charles devoted special attention to the neighborhood of Harlem, often intimately capturing the day-to-day life in the bustling community. He even documented many of those quieter moments as one photo of card players depicts. But it was those dramatic and sometimes fatal civic disturbances on which he focused his camera.
For more than four decades Charles roamed the country, and whether it was a demonstration, a concert, a fashion show or just ordinary events, he found a way to highlight something about the American story that often went untold. The images he captured at the United Nations and shots of John Lennon, Muhammad Ali and other notables are part of his impressive tableau of work, several of which were included in an exhibition at the Museum of Modern Art on a century of photography from The Times.
A photo at Dr. King's funeral in which Harry Belafonte is seen consoling Mrs. King and members of the King family is among those included in the exhibition.
At least a half dozen of Charles's photos appear in "Unpublished Black History," a collection of never published Times' photos, edited by reporters Rachel L. Swarns, Darcy Eveleigh and Damien Cave. There is a commanding shot of Lew Alcindor (later Kareem Abdul-Jabbar) looming over his high school teammates. Equally interesting is Charles' photo of the Malcolm X's home after it had been firebombed in 1965.