Don Hogan Charles let his ubiquitous camera speak for him
Herb Boyd | 1/4/2018, 7:53 p.m.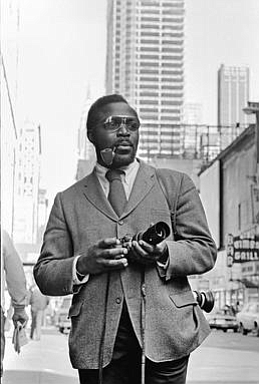 In an interview with Randolph J. Rawlins of Black Enterprise magazine in Feb. 1982, Charles offered some advice to budding photojournalists. They "must be well read on current events," he advised, "because an event will always have had a beginning at some other time, and one must know who the principals are." He could have extended the discussion to include the traits of versatility and an ability to work in difference venues. As a freelancer Charles often worked with foreign publications such as the German magazine, Der Spiegel, and the French magazine, Paris Match.
These lucrative assignments with international clients put Charles in touch with major corporations such as Eastern Air Lines and Pan-American World Airways, and fashion houses such as Bill Blass and Oscar de la Renta. And often he shared these contacts with other photographers, particularly those acolytes just learning the ropes.
"When you're a new kid at The New York Times and you needed a big brother, he was all of that," said photographer Michelle Agins. "He was definitely the guy to have on your team. He wouldn't let other people bully you."
Nor apparently would he allow folks to bully him, though that seemed unlikely for someone many believed to be haughty and stand offish. Viewing him from a distance may have left that impression, but up close he exuded a warm and personable charm, if almost aristocratic.
That bearing may have been just his way of striving for perfection in both comportment and profession. "He felt that his responsibility was to get the story right, that the white reporters and white photographers were very limited," said renowned photojournalist Chester Higgins, Jr., who shared the beat for many years at The Times with Charles.
But for all the opportunities Charles had at The Times, some of the assignments brought sadness and disappointment related his niece Cherylann O'Garro (he never married and had no children). During a Thanksgiving dinner, he told her about an incident that smacked of Jim Crow in Manhattan when he was told to enter a store through the back door. It was even more potentially dangerous in the South, where he often checked the tailpipe of his car for explosives.
Despite the dangers and indignities, Charles forged ahead, determined to carry out his assignments without fear or imperfection.