PBS American Masters— 'Lorraine Hansberry: Sighted Eyes/Feeling Heart'
NADINE MATTHEWS | 1/4/2018, 7:10 p.m.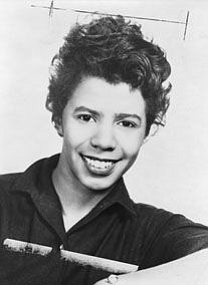 Debuting in 1960, the play "A Raisin in the Sun" is the work for which Hansberry is most known. Voices from the Gap, a website that showcases women writers of color observes, "Hansberry's work was a preview of the African-American spirit that engulfed the nation in the historic changes of the Civil Rights Movement." There is no doubt that it was her childhood experiences in both renting to working-class Blacks as well as trying to desegregate an upper-class white neighborhood that informed the writing of the play.
About a widow who desires to move her family to a neighborhood that happens to be all white, the play ran for more than 400 performances. It won the New York Drama Critics Circle Award as Best Play of The Year. Hansberry was the first Black person to receive this prize. She also wrote the screenplay for the movie adaptation. Sidney Poitier, who plays main character, Walter Lee Younger, on Broadway and in the film, appears in the PBS documentary and visibly chokes up recalling some of the lines of the play, even after all these years.
The PBS documentary unabashedly delves into Hansberry's identity as a closeted lesbian, which came to public attention only in the past 10 years or so. She subscribed to one of the first journals for lesbians, The Ladder, and wrote them letters signing with just her initials. One subject that she talked about a lot was "Lesbian women in heterosexual marriages." Although officially married for 10 years to Jewish writer Robert Nemiroff, they separated early on. Hansberry embarked on several passionate affairs with women. One of them was a neighbor of hers at her 337 Bleecker St. building in Greenwich Village. She and Nemiroff remained close friends and business associates until she died.
The film puts some of Hansberry's now famous lists on display. Some were typed, and many were handwritten in yellow legal paper. Usually, there would be a column for things she liked and another for things she disliked, was bored by or found annoying. The lists alone made it clear her passion for several women, including an ongoing crush on singer, dancer, actress Eartha Kitt.
This documentary is part of American Masters' Inspiring Woman online campaign and will premiere in 2018 on PBS.